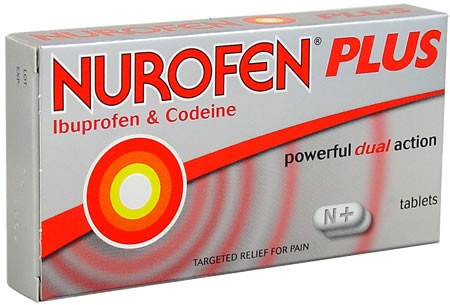 Follwoing a warning issued on 26 August from The Medicines and Healthcare products Regulatory Agency advising consumers to check packs of Nurofen Plus for packets of Seroquel XL 50mg, immediate fears began of a possible sabotage.
Reports by the MHRA revealed that some batches contained Seroquel XL 50mg prescription-only anti-psychotic drug used to treat mental health conditions such as schizophrenia, instead of Nurofen Plus.
The Daily Mail ran with the front page headline Painkillers "sabotaged"', and this line has also been taken in The Daily Telegraph.
These fears of sabotage worsened when a source at Reckitt Benckiser, the company that makes Nurofen Plus, early this morning ruled out a manufacturing error to explain how potentially harmful antipsychotic drugs were found in their products reported the Metro.
The Telegraph reported a source close to the company saying the anti-psychotic drugs must have got into the boxes somewhere between the factory and the shops, or in the shops themselves.
"It is very strange. This didn't happen in the manufacturing. Sabotage is a possibility," the source said.
The mix up has seen some batches of Nurofen Plus which are small and have silver and black packaging contain individual blister packs of Seroquel XL 50mg Seroquel tablets which are larger and have gold and black packaging
Reckitt Benckiser, manufacturer of Nurofen Plus, said in a statement that there have been three cases identified so far which have all been confined to south London, reported The Press Association.
Virgo Health, the healthcare agency handling crisis comms for Reckitt Benckiser dismissed any rumours of sabotage.
A spokeswoman for Virgo Health, said the agency is "not happy" with the Daily Mail's line of "sabotage" and denies the company uses animal testing, reported PR Week.
Coinciding with this, Nurofen Plus medical director Dr Aomesh Bhatt said: "Nurofen Plus has a firm policy of not testing on animals" quoted PR Week.
Each of the affected batches contains between 4,000 and 7,500 packs. But not all the packs are affected, reported BBC News.
Reckitt Benckiser said that because the anti-psychotic drug is made by a rival company, AstraZeneca, it was trying to establish how the mix-up, believed to have happened at a wholesaler, could have occurred.
Sealed strips of Nurofen Plus appear to have been removed from their boxes and replaced by strips of Seroquel, it added.
The companies were looking into the possibility that a saboteur had deliberately switched the drugs, reports The Telegraph.
Adding to their statement Reckitt Benckiser said: "serious investigations" were under way to establish the source of the problem.
Ian Holloway, from the MHRA's defective medicines report centre (DMRC), said, "if you have taken a tablet and you have any questions, speak to your GP", quoted BBC News.