Nvidia has started rolling out first over-the-air update for its Shield gaming tablet.
The OTA Update 1.1, weighing in at 84.1MB, brings important improvements and optimisations. To download the latest software for Shield tablet head over to Settings>> About Shield>> System updates. Below is the official changelog for the Update 1.1.
Release date: 8/28/14
SHIELD Tablet OTA Update 1.1
This update contains important enhancements and bug fixes, including:
Improved Wi-Fi stability in certain scenarios
Improved camera performance
Nvidia PRISM feature toggle
Stability improvements to Shield Hub and Gamestream
ShadowPlay performance optimisation
Localisation improvements
Audio optimisations
Misc. stability improvements
The Update 1.1 focuses more on the optimisation and stabilisation of Android 4.4.2 version, the tablet is running. One of the notable features of the update is new PRISM toggle.
PRISM is a feature that changes screen brightness and contrast dynamically while improving the readability of displayed content. It also manages the power usage of the device, reports XDA.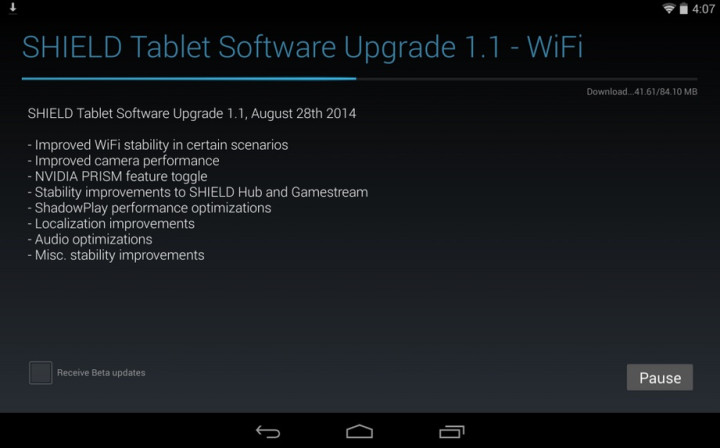 A number of members at the forum have confirmed the update. According to junior member asdfcorp has mentioned that the PRISM toggle is now in the Shield Power Control setting, but not in display settings.
When the feature is being disabled a cautionary appears sayings, "We recommend that you keep PRISM turned on for optimum power saving and image quality."
The OTA download link is available for those who cannot wait for the update to reach their region. Below is the download link for Update 1.1.
OTA link: Update 1.1 [Alternate link]