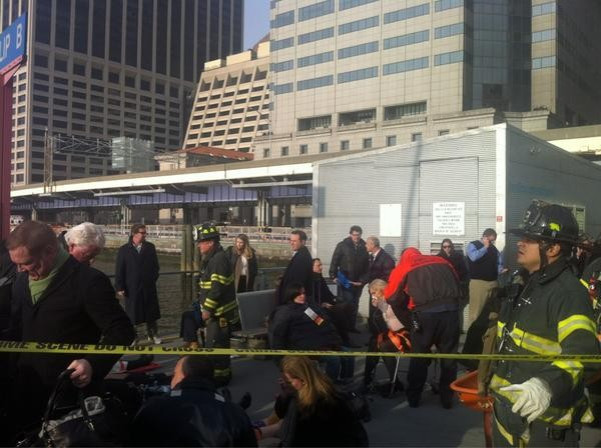 Investigations have begun into a rush hour ferry smash in New York that left 57 passengers injured, two of them critically. The two were being treated for serious head injuries after the SeaStreak ferry ploughed into a dock.
The SeaStreak ferry from the New Jersey town of Atlantic Highlands struck Pier 11 as it arrived in Lower Manhattan.
A number of the most seriously injured patients were carried on stretcher gurneys to waiting ambulances as investigations got under way into the cause of the crash.
"We don't know what the cause was," said coastguard spokesman Charles Rowe.
"Nothing seemed like it was going to be out of the ordinary," a passenger told ABC news.
"Once or twice where I was talking with a colleague we thought [the ferry] was coming in a little bit near Brooklyn, where we're not used to seeing it. Then the next thing we knew, you feel the jolt and then everybody goes flying."
Another eyewitness said the ferry "ripped open like a tin can" and people started tumbling on top of one another, hysterical and crying.
SeaStreak carries people from ports in New Jersey to the pier serving East 35th Street and World Financial Centre in Wall Street. Most of the injured were on the upper level, where passengers were waiting to disembark.
"There was a jolt , throwing the people forward into their seats and the walls," SeaStreak president James Barker told NBC 4 New York.
"The legal aftermath will be played out in a federal court in Manhattan since the incident occurred in the navigable waters of the United States, ie, New York harbour," said maritime law expert Prof Anthony Sabino.
"The paramount questions will be why the accident happened, were all safety protocols followed, and was there negligence? Expect a full-blown coastguard investigation, with civil lawsuits to follow."