The outgoing President of the United States, Barack Obama, said on Sunday (25 December) that it had been the "privilege of my life" to serve as US commander-in-chief and added that his gratitude to service members would remain the same.
Obama along with his wife was on a Christmas Day visit to the Marine Corps Base Hawaii. Addressing several hundreds of US Marines and personnel and their families, the outgoing president said, "Although this will be my last time addressing you as president, I want you to know that as a citizen, my gratitude will remain, and our commitment to standing by you every step of the way, that won't stop."
He said that the first lady of the country, Michelle Obama, also felt the same way and added that greeting service members and their families was one of his favourite traditions.
Obama said that he sought to pay tribute to the men and women who sacrificed their lives in battles that will continue even after his presidency comes to an end. He said, with his wife Michelle at his side, that while people in America were celebrating the festival, the US troops were serving in unsafe, isolated places like Iraq and Afghanistan for freedom.
He added that some were carrying out missions against the Islamic State (Isis) group even on Christmas Day.
"As tough as it is to be deployed, the people here in America, back home, understand that every single day you serve, you're fighting for our freedom," the retiring president said.
Obama, who is due to leave office in January, said he would not be a stranger to those stationed in Hawaii, where he was born and still often spent vacations.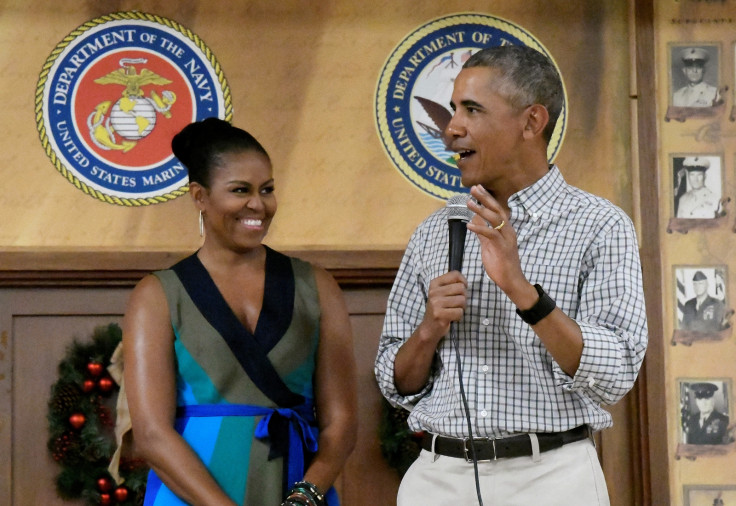 "We look forward to seeing you for many years to come, because I understand that I still have a little bit of rank as ex-president. So I still get to use the gym on base and, of course, the golf course," Obama said on a lighter note.