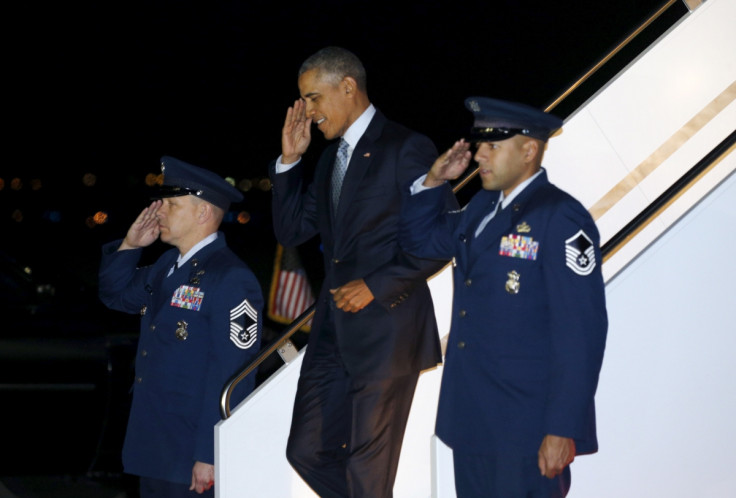 US President Barack Obama has hit the West Coast to attend several fundraisers and stop for an appearance on Ellen DeGeneres show. The president arrived in the Bay Area on 11 February before heading down to Los Angeles for a taping of Ellen in Burbank.
According to the Los Angeles Times, Obama is set to attend fundraisers in Hancock Park that were organised by the Democratic National Committee (DNC). The first reception will be hosted by Cougar Town producer Danny Rose and his husband, Aaron Rosenberg. Tickets for the event reportedly range from $1,000 (£690.56) per person to nearly $33,400 (£23,064.87) per couple. Singer John Legend is expected to perform.
A second dinner at the home of Sam and Leah Fischer is being hosted by HBO President of Programming, Michael Lombardo and partner Sonny Ward. Tickets for the dinner start at $10,000 each, according to The Wrap.
Obama will spend the night in LA before heading to the Coachella Valley on 12 February to visit Palm Springs and Rancho Mirage. Once in Sunnylands, a 200-acre estate formerly owned by the Annenberg family, the president will host a two-day summit with leaders from Southeast Asia.
The president's visit to LA will lead to several road closures, the Los Angeles Police Department (LAPD) warned. Commuters can expect traffic for several hours, with the biggest delays expected for the evening commute on 11 February and morning commute on 12 February.
Below is a complete list of closures provided by the LAPD:
11 February
The area around N Hollywood Way between N San Fernando Boulevard &

Forest Lawn

Drive from 3.15 – 4.45pm PST

The area around N Hollywood Way between Forest Lawn Drive & N San Fernando Boulevard from 4.45 – 6.15pm PST

The area around Rimpau Boulevard between W Pico Boulevard & W 6th Street from 5.30 - 7.00pm PST

The area around Wilshire Boulevard between S Hudson Avenue & S Arden Boulevard from 5.30 – 7.00 pm PST

The area around W 4th Street between S Muirfield Road & Lorraine Boulevard from 7.15 – 8.45pm PST

The area around Crenshaw Boulevard between Wilshire Boulevard & West Adams Boulevard from 8.45 – 10.30pm PST

The area around Wilshire Boulevard between the 405 Freeway & Malcolm Ave from 8.45 – 10.30pm PST
12 February
The area around Wilshire Boulevard between the Westwood Village area and the 405 Freeway from 9.30 – 11.00am PST

The area around S. Bundy Drive between Ocean Park Boulevard & the 10 Freeway from 9.30 – 11.00am PST