The US Supreme Court has upheld President Obama's landmark healthcare reform which will see 30 million Americans get insurance by 2014.
The centrepiece of Obama's healthcare overhaul was passed 5-4 in a vote, giving the President a huge boost ahead of the election against Mitt Romney in November.
Obabma referred to this momentous decision as a "victory for people all over this country," an opposite view from his presidential challenger Romney, who referring to "Obamacare" as a "bad law".
The historic overhaul, opposed by all Republicans including Romney, will be seen as a huge achievement for Obama's Democratic Party and is sure to play a huge part in the run-up to the elections where Obama seeks a second four-year term.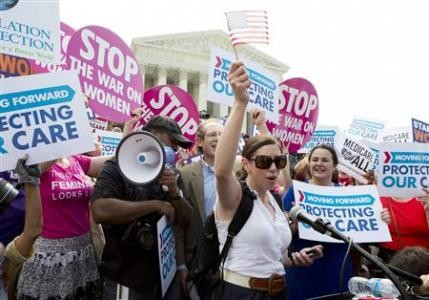 "A victory for people all over this country"
"Whatever the politics, today's decision was a victory for people all over this country," Obama said, speaking on national television from the White House.
"It should be pretty clear by now that I didn't do this because it was good politics," he said. "I did it because it was good for the country."
The decision will now have a profound affect the way millions of Americans receive and pay for their medical care and will gradually come into effect over the next few years.
The 2010 law constituted the $2.6tn ((£1.7tn) US healthcare system's biggest overhaul in nearly 50 years.
"Bad Law"
The law has become one of the most hotly contested issues in the 2012 presidential race. Romney has already spoken out against Obama's healthcare law, suggesting he would repel the "bad law" it if he was to be elected president in November.
Speaking just hours after the US Supreme Court upheld the reforms, Romney said: "What the court did not do on the last day in session, I will do on my first day if elected president of the United States, and that is that I will act to repeal 'Obamacare.'
"'Obamacare' was bad law yesterday. It is bad law today."
Critics of the law have said it intrudes too much in the lives of individuals and in the business of the states.
Romney claims some 75 percent of businesses he had surveyed had said that the requirement to provide health insurance would force them to scale back hiring.
Presidential Election 2012
The decisions to uphold his healthcare reform could arguable not come at a better time for Obama.
It will be seen as another huge boost to his election campaign having already been ahead of Romney on two opinion polls the day before this significant announcement from the US Supreme Court.
The numbers, supported by Quinnipiac University poll, show that Obama is currently nine points ahead of Romney in Ohio, a state many see as key indicator of how the elections will unfold.
The latest opinion poll shows that Obama currently holds an eight-point lead in 12 key swing states, according to a poll by NBC and The Wall Street Journal.
Obama was also head of his main rival by six points in Pennsylvania and a four points in Florida, another US state with huge significance in who wins the overall election.
According to these numbers, if Obama won all the states he is currently leading in, he would safely hold 268 electoral college votes - just two short of 270 votes needed to win the White House - whereas Romney would need 51.