US President Barack Obama has capped his Middle East visit by pledging additional US aid of $200mn (£131mn) to Jordan to cope with the crisis caused by the influx of refugees because of the civil war in Syria.
After meeting King Abdullah II to discuss the refugee problem, Obama praised the Jordanian authorities for their humanitarian efforts in welcoming people fleeing war-torn Syria. He promised to ask congress to sanction an additional $200mn as "budget support" to address the issue.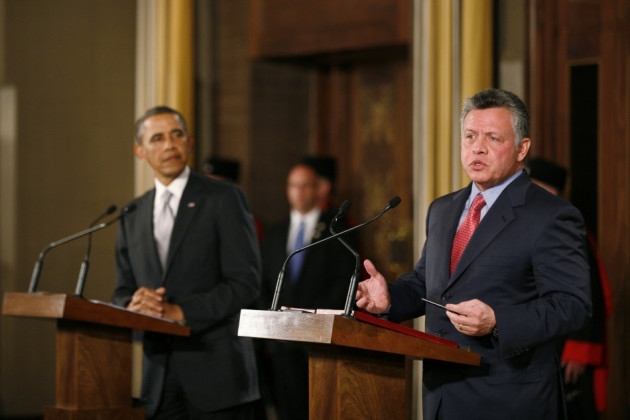 BBC reported that some 450,000 Syrians have entered Jordan, putting enormous pressure on the country's basic amenities such as health, water and energy services.
Abdullah estimates that the number of refugees could double by the end of this year, causing more strain on the economy and the infrastructure.
Abdullah said Jordan will continue to "welcome" refugees into the country, but said the exodus of Syrians into his country would entail huge economic and financial costs. He estimated the burden at an additional $550mn (£361mn) every year.
"Obviously, this (influx of refugees) has strained the economy that is already under considerable pressures with an unstable region, a sluggish economy that is still recovering," the king said.
However, Abdullah reiterated not to stem the flow of Syrians. "I mean, how are you going to turn back women, children and the wounded? This is something we just can't do."
The UN says half the refugees comprised children, most of them under the age of 11.
However, Human Rights Watch and the Harvard Law School's International Human Rights Clinic accuse Jordan of discriminating against refugees. They claim that the country "routinely and unlawfully" denies entry to Palestinians living in Syria, and single Syrian men.
Meera Shah, member of the Harvard Clinic, told Reuters: "Discriminating against Palestinians and single males as ineligible to seek asylum within Jordan violates Jordan's international legal obligations."
Assad's Future
Obama also addressed Assad's future during his talks with the Jordanian king, saying that Assad's days as president of Syria are numbered.
"I am confident that Assad will go - it is not a question of if but when ... so we have to think about what comes after that."