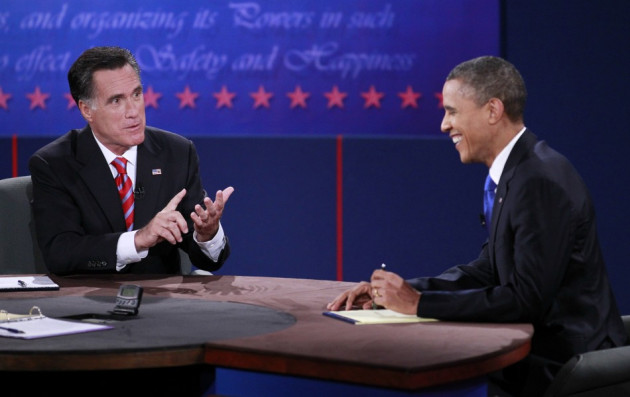 US President Barack Obama won the third and last presidential debate in Boca Raton Florida, analysts say.
He appeared more confident on the subject matter - foreign affairs - and forced Mitt Romney on the defensive. The Republican candidate was blindsided into agreeing with much of the president's policies over the last four years.
"Mitt Romney forgot the first rule of presidential politics, and he paid dearly for it: 'Don't try to argue foreign policy with a commander-in-chief. Chances are, he gets better briefings than you," Ruben Navarrette wrote for CNN.
Romney's lack of experience on the international stage was exposed and Obama was quick to exploit it.
"I know you haven't been in a position to actually execute foreign policy - but every time you've offered an opinion, you've been wrong," the president told his opponent in a rebuttal of Romney's assertion that more US troops should have been sent to Iraq.
"At age 65, Mitt Romney probably thought he was done with school. But he got schooled by Obama on foreign policy at what will be their last meeting before eection day," Roger Simon wrote for Politico.
Obama mocked the Republican candidate's claim that Russia was the "biggest geopolitical threat facing America" by saying: "The Cold War's been over for 20 years. But Governor, when it comes to our foreign policy, you seem to want to import the foreign policies of the 1980s, just like the social policies of the 1950s and the economic policies of the 1920s."
In another exchange, Obama said: You mentioned the Navy and that we have fewer ships than we did in 1916. Well, we also have fewer horses and bayonets, because the nature of our military's changed. We have these things called aircraft carriers, where planes land on them. We have these ships that go underwater - nuclear submarines," Obama said.
His verbal assault, however, was criticised by some observers as "not presidential".
Romney managed to maintain a measured attitude throughout, impressing some analysts.
"While Governor Romney may have lost the debate, he looked like a commander-in-chief and presented himself in a presidential way with the president's tone being much too aggressive and petulant and oftentimes times downright nasty," analyst Karl Rove told Fox.
"This evening was Romney's turn to appear cool, rational and likely to make the right decisions. And he did," Oxford University historian Timothy Stanley told CNN.
Some critics, though, were still not impressed.
Fine sheen of sweat
"Romney was - and looked - out of his element, sounding like he'd just crammed for a geography exam. President Obama sounded presidential," CNN contributor and Democratic strategist Donna Brazile wrote.
"Mr Romney sounded like a beauty pageant contestant groping for an answer to the final question. 'We want a peaceful planet,' he said. 'We want people to be able to enjoy their lives and know they're going to have a bright and prosperous future and not be at war,'" an editorial by the New York Times read.
"During the debate, on issue after issue, Mr Romney sounded as if he had read the bold-faced headings in a briefing book - or a freshman's global history textbook - and had not gone much further than that," added the NYT.
The republican was also accused of lacking a clear political strategy on foreign policy and of having failed in highlighting how his leadership would have been different from that of Obama, apart from the assumption that America should look stronger.
"Romney wasn't terrible. But he was on the defensive for much of the evening, a fine sheen of sweat popped out on his forehead long before the debate ended, and - - worst of all - Romney was repeatedly forced to say he agreed with Obama on policy after policy," Simon wrote.