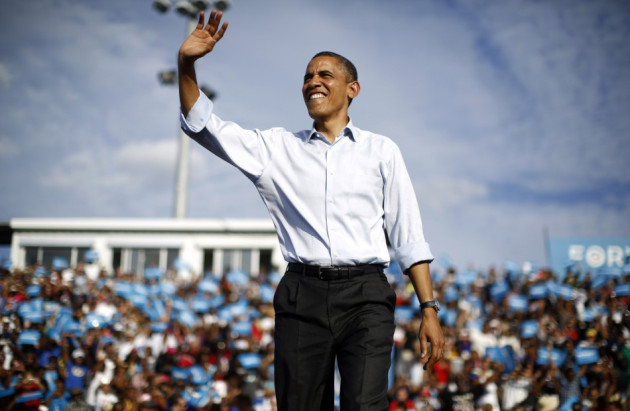 US President Barack Obama holds a narrow lead on Republican candidate Mitt Romney thanks to his handling of hurricane Sandy, the latest polls show.
According to a survey by YouGov, Obama is likely to win the national popular vote with a 2 percent margin, 48.5 to 46.5 percent.
The President also backed by polls from NBC News/Wall Street Journal and ABC News/Washington Post - even though his lead in these forecasts is just one point.
Polls from CNN and Politico/George Washington University report a deadlock, with the candidates tied at 49 and 48 per cent.
In addition to his apparent nationwide advantage, Obama has the edge in several decisive swing states according to the polls.
YouGov says the President "maintains a marginal lead of 3-to-5 percentage points" in New Hampshire, Nevada, Ohio, and Wisconsin and has a narrow margin also in Colorado, Virginia, and Iowa.
One forecast in fact claims Obama has an 11-point advantage in Iowa. The Des Moines Register forecasts a tighter result, although its prediction of a five-point Obama victory is still far more clear-cut than YouGov's prognostication.
Romney is widely thought to be leading in Florida and North Carolina. However, if the polls are accurate, winning these two states would not be enough for the former governor of Massachusetts, as he would still be 35 electoral votes short of the 270 needed to carry the election.
Obama storming to victory?
Obama's prompt response to Superstorm Sandy seems to have had a marked effect on his victory chances.
In the space of a week, the storm has turned a deadlock situation between the candiates into a three-point lead for Obama, a poll by the Pew Research Center found.
According to the same survey, 69 percent of likely voters nationwide and 63 percent in the swing states approved the President's handling of 'Frankenstorm'.
Since Sandy first hit New Jersey last week Obama's chances of remaining in the White House for other four years have risen from 73 to 86 per cent, according to the New York Times political calculus blog FiveThirtyEight.