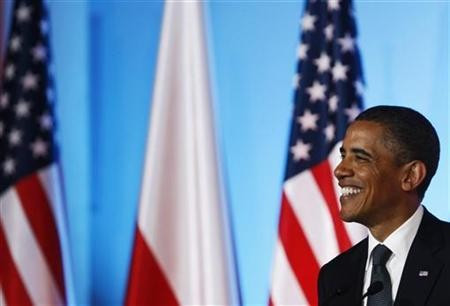 After winning over the U.S. and the world with his 'Yes we can' slogan, Obama's next presidential campaign announces itself gloomier and harder than its precedent as a new poll suggest a majority of Americans expect him to be a one-term president, only, prompting the president to call himself an 'underdog.'
With a faltering economy, social problems on the rise and with his popularity declining domestically but also internationally, the man who many thought could change the U.S. has proven less innovative and more conservative that it was first expected.
So when asked if he finds himself at a disadvantage because of the economy, the president told ABC News "Absolutely."
"I'm used to being the underdog. But at the end of the day people are going to ask - who's got a vision?"
Obama's vision though will be hard to promote this time around has some of his supporters have been left feeling let down by some of the president's policies.
With an economy in tatter and unemployment rates going through the roof the president opted for the 'honesty' card when interviews acknowledging the American people are "not better off" than they were four years ago. "The unemployment rate is way too high," he said
His solution then seems to be a return to the need for values, as he described the 2012 race as a "contest of values and vision". He is not the only politician to use a return to good old values and the need for a vision, often a moral to try and win people over.
Just a week ago Governor Christie made a bang with his speech on American exceptionalism, explaining how the U.S. ought to recover its place as the one and true world leader.
By explaining the next elections results as a referendum on whether Americans believed the government should invest now in long-term improvements in education and infrastructure, Obama wants to emphasise his respect for a process that should determine who the people have elected as a leader and thus who they have decided to put their confidence and faith in.
While his charms and dynamism won over the crowds four years ago, this time Obama will need to try harder, especially as according to a new ABC News/Washington Post poll, just 37% Americans expect Obama to win re-election in November 2012, while 55% instead expect the eventual Republican nominee to win.
Meanwhile Democrats still expect Obama to win, but they say so only by 58-33% - a comparatively weak vote of confidence within his own party.
Republicans, by contrast, appear far more confident despite not even knowing who will represent the party as they insist they smell victory by a vast 83-13%.
To add to reservations surrounding Obama's ability to win, even independents expect the Republican candidate to beat Obama by 54-36%.
While all is possible with the election being set more than a year away Obama's trying to create an 'underdog' image to use as a new strategy when his campaign has already amassed millions in donations and is set to be even more grandiose than four years ago sounds even more unrealistic than the return to values that politicians promise year after year.