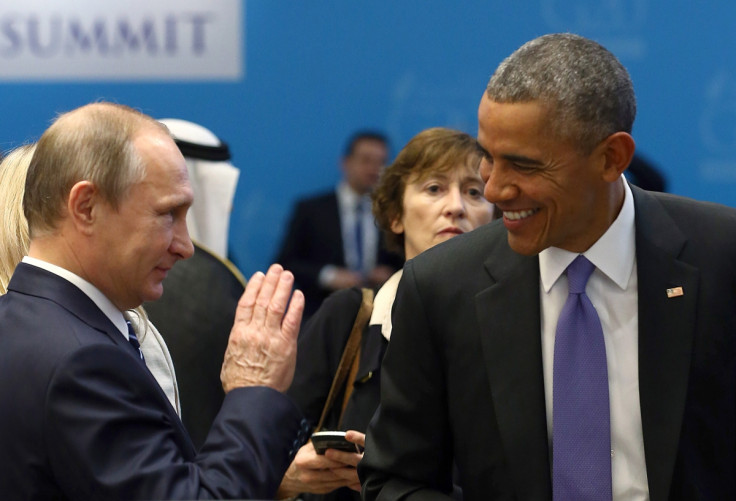 The presidents of the US and Russia have held a key telephone conversation discussing the ongoing crises in Ukraine and Syria, with both leaders cautious not to step on each other's toes. When US President Barack Obama urged Russia to stop bombing the positions of "moderate" rebels, Vladimir Putin responded that the US-led coalition forces in conflict zones must give up their "double standards".
Following their talks, statements released by the Kremlin and the White House once again highlighted the contrasting positions of the two countries. Russian forces have been accused of launching an offensive against Syrian rebels, who are fighting against Syrian leader Bashar al-Assad, on the pretext of bombing Islamic State (Isis) targets.
The White House press release said: "In particular, President Obama emphasised the importance now of Russia playing a constructive role by ceasing its air campaign against moderate opposition forces in Syria." The conversation between Obama and Putin took place at Washington's request, said Moscow.
Obama was speaking to Putin on the heels of the recent ceasefire agreement by major powers involved in the conflict. The limited cessation of hostilities – of which neither the Syrian government nor the rebel groups are a part – is expected to come into force soon. Both the leaders have also expressed willingness to make sure the Munich deal is implemented.
The Kremlin statement said: "The Russian president once again stressed [the] importance of organising a common anti-terrorist front, where double standards are dropped. He pointed to necessary close working contacts between representatives of the defence authorities of Russia and the US in order to have [a] systematic and successful fight against IS and other terrorist organisations." The mention of "other organisations" is interpreted as a clear reference to groups fighting Assad. Moscow added that the telephone conversation between the two "was open and business-like".