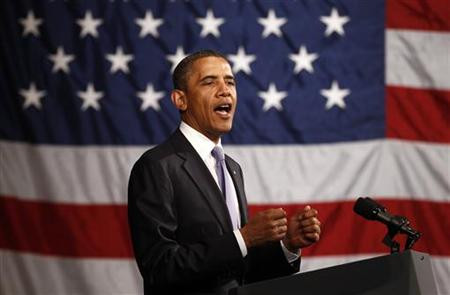 President Barack Obama will answer questions about the economy and jobs Wednesday during his first Twitter town hall meeting.
But the president, known for his oft- lengthy responses to the shortest of questions, will not be confined to Twitter's 140-character limit. He is verbally answering questions from Twitter users, who were urged to use the hashtag #AskObama.
"He's just answering the questions. He's not typing and tweeting," White House spokesman Jay Carney said last week.
White House officials have said the so-called "Tweetup" is a fresh opportunity for the president to engage with Americans beyond the Beltway.
The event is expected to be attended by up to 140 selected individuals who follow the White House Twitter feed and signed up for a chance to attend. The number 140 is not a coincidence as many says was an allusion to the number of characters allowed in a tweet.
Twitter co-founder Jack Dorsey will monitor the expected flood streaming in through the official #AskObama hashtag.
"Questions addressed during the town hall will be selected both in advance and in real-time during the event," Twitter said in a statement.
Obama held a similar town hall at Facebook headquarters in Palo Alto, California, in April and a YouTube town hall at the White House in February.
However, at both events, the White House was criticized for ignoring the subject that drew by far the most queries: whether he supports legalizing marijuana and it seems unlikely that today will be any different, according to cnn.com
Though the president rarely tweets himself, the administration has increasingly used social media to bypass traditional media outlets and convey information directly to supporters.
The @whitehouse Twitter account has 2.25 million followers-and Obama team members use Twitter all the time to chat, break news or take the temperature of their Twitterverse.
At a Tuesday conference call White House communications chief Dan Pfeiffer and Macon Phillips, White House Director of Digital Strategy offered a preview:
"At tomorrow's event, the president will take questions from Twitter users from across the country, primarily around jobs and the economy. Twitter cofounder and executive chairman Jack Dorsey will moderate the conversation. And we've also invited several @whitehouse followers through what we're referring to as a - our first-ever tweet-up." Pfeiffer said.
"We're really excited about the event overall, and certainly this part in particular. We put out an opportunity to all of the people who follow the @whitehouse account to let us know if they wanted to come to the event tomorrow. We're going to have about 30 people from around the country who are going to be there in the audience, and they'll also be tweeting about, you know, what they're seeing, sort of what the event's like, so that everybody else can follow along.
"The purpose of doing this event is to try to find new opportunities to connect with Americans around the country. And so whether we're inviting them here to the White House through this tweet-up, or whether we're using a social media platform like Twitter to get out of D.C., we're really excited to bring in new voices to the conversation with the president, and are particularly excited about the format of tomorrow's event, which I think will take advantage of the real-time nature of Twitter to actually have a conversation and a set of questions that evolves as the president's speaking and as people are watching live." Said Phillips.