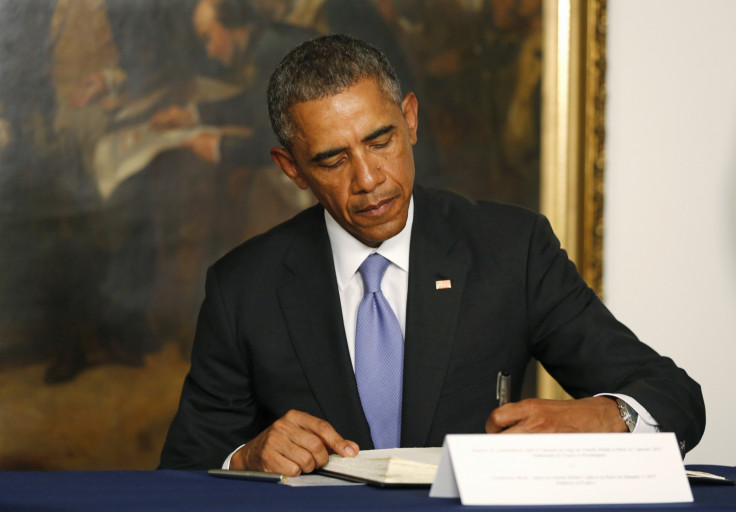 Anger grows over Barack Obama's no-show at the Paris unity march, as a US congressman compares US president to Nazi dictator.
Representative Randy Weber took to Twitter, saying: "Even Adolph Hitler thought it more important than Obama to get to Paris. (For all the wrong reasons.) Obama couldn't do it for right reasons."
Democrats were outraged at the Texan Republican's comments. "Rep Weber's tweet is vile and stoops to a new low level by desecrating the victims of the Holocaust to make a political point," retorted Rep Steve Israel in a statement.
The White House remained silent on the matter. Obama had offered condolences last week at the French Embassy in Washington. He also wrote in a book of condolences and signed off with "Vive La France!"
On Monday, Press Secretary Josh Earnest admitted that the administration erred in not sending a higher profile US representative to the march.
Instead of Obama or Vice President Joe Biden, the White House sent Jane Hartley, its ambassador to France. Attorney General Eric H. Holder Jr. and Deputy Secretary of Homeland Security Alejandro Mayorkas were in Paris for security meetings but did not attend the march.
Secretary of State John Kerry, who also did not attend the rally, but is travelling to Paris later this week, dismissed the criticism as "quibbling".
Randy Weber has a history of attacking Democrats as last year he referred to the President as a "Socialistic dictator" and "Kommandant-In-Chef" ahead of Mr Obama's State of the Union address.
But the Republican later said sorry for his tweet, posting a reply stating: "I need to first apologize to all those offended by my tweet. It was not my intention to trivialize the Holocaust nor to compare the President to Adolf Hitler.
"The mention of Hitler was meant to represent the face of evil that still exists in the world today. I now realize that the use of Hitler invokes pain and emotional trauma for those affected by the atrocities of the Holocaust and victims of anti-Semitism and hate."
Even Adolph Hitler thought it more important than Obama to get to Paris. (For all the wrong reasons.) Obama couldn't do it for right reasons

— Randy Weber (@TXRandy14) January 13, 2015
I need to first apologize to all those offended by my tweet... http://t.co/ZQ612AtonU — Randy Weber (@TXRandy14) January 13, 2015