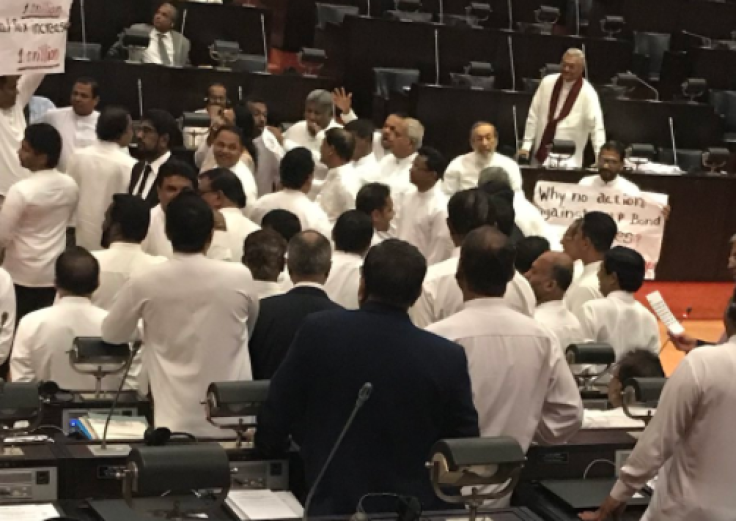 Chaos erupted in the Sri Lankan parliament when 100 politicians came to blows during a debate on corruption allegations against the country's central bank.
Government and opposition members brawled in the historic chamber and MPs were treated by paramedics for injuries, according to local reports.
The economic minister later claimed that a projectile had been thrown at Prime Minister Ranil Wickremesinghe while he was speaking.
Wickremesinghe was addressing MPs about an inquiry into claims that the son-in-law of a former bank governor made $72m (£53m) from insider information about government bonds.
Opposition members were furious because they had not been able to see the report and some marched into the centre of the chamber carrying placards and chanting slogans.
They were confronted by members of the ruling United National Party and a brawl erupted.
"I am told that never in history had there been a brawl in the Chamber like the one just now," deputy minister of policy planning and economic development Harsha De Silva said on Twitter.
"Utter pandemonium in Parliament. Apparently someone threw an object at the PM while he was speaking in the Chamber. Didn't see who it was. Disgraceful," he added.
Mobile phone footage uploaded to YouTube showed the aftermath of the fracas with members still pushing and shoving each other
The central bank scandal has been damaging for the prime minister because he is a friend of the governor at the centre of the allegations and had hand-picked him for the job.
The inquiry found that that the Sri Lankan treasury lost $55m as a result of bond movements, which saw the ex-governor's son-in-law turn a handsome profit.
The report also recommended the former finance minister be charged with bribery amid claims that he lived in a luxury apartment paid for by the ex-governor's son-in-law, Associated Press reported.
The scandal is a major setback for the United National Party, which had built a reputation of solid and transparent governance since its election three years ago.
Wickremesinghe is enjoying his second time as Sri Lankan prime minister having previously held the position for two terms in the 1990s. He is trying to open up the south Asian nation to foreign investment and international trade.