Police were standing by to evict Occupy London's activists who have put up their tents in Trafalgar Square in a May Day protest.
Arguments between the police, heritage wardens and Occupy London emerged after security forces threatened protesters with arrest under bylaws forbidding tents being erected in Trafalgar Square, activists reported on Twitter.
"Police preparing to evict #OccupyLondon at centre trafalgur square on #May1st . Please come show #solidarity," tweeted Daniel.
"The police are kettling us. We've occupied Trafalgar Sq @OccupyLondon #OccupyMayDay" tweeted Andrea Bakacs from Occupy London
Earlier a group of 30 activists unfurled banners and passed flowers to police and commuters in Liverpool Street station, two miles away. The initiatives began in Finsbury Square where business cards with links to the Occupy London website and the Twitter hashtag Occupymay were given out.
Activists gathered at Bond Street tube station for "anti-workfare actions". More than 5,000 were expected to take part in the rally.
Topshop was reportedly forced to shut down after a spontaneous demonstration broke out close to the shop.
"#May1st spontaneous demo outside topshop by #OccupyLondon . Union stewards trying to break up demo."tweeted Daniel.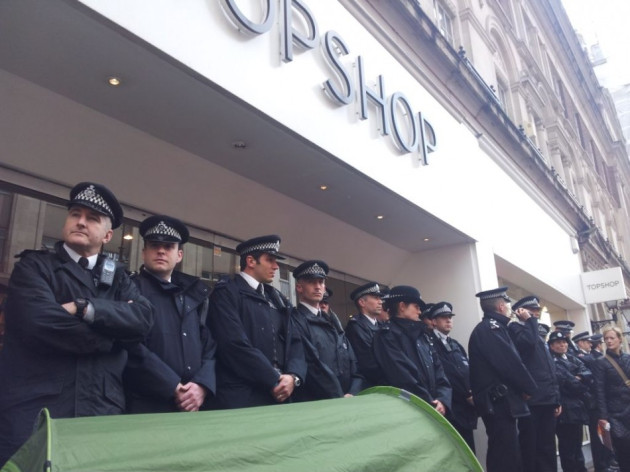 Occupy London was most recently involved in a protest over an Olympic sbasketball training facility at Leyton Marshes in east London but has been relatively quiet since it was evicted from St Paul's on February 28, the Evening Standard reported.
Occupy members rejected rumours that the movement would attempt to stop the underground system.
The rally was held to highlight several disputes over public sector jobs, pay and pensions and concerns over government cuts.
One organiser said: "Attacks on the NHS, education, pensions, the civil service, local government, jobs both public and private sector, the disabled and women mean we have to fight back and say there is a different way forward."