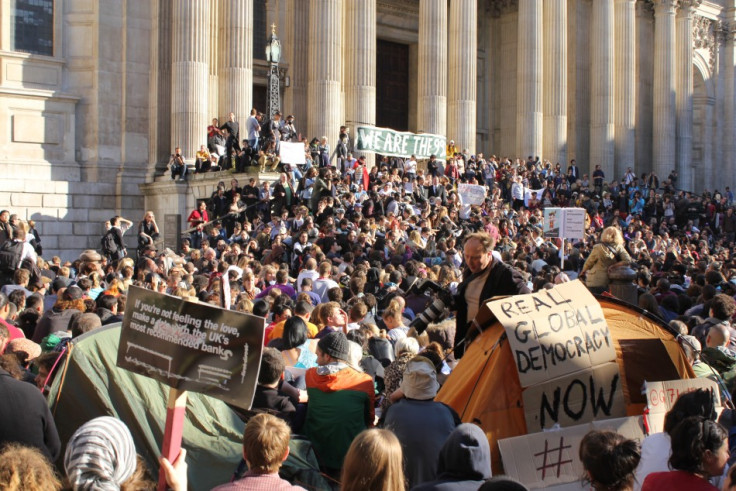 With the London branch of the Occupy protests camped on its door steps, St. Paul's Cathedral has issued a statement suggesting protesters should think of the long term damage their actions are inflicting on St. Paul's ability to operate.
St. Paul's released its statement regarding the Occupy London protest Tuesday.
"St Paul's Cathedral stated on Monday that it was still trying to provide worship and welcome to all in spite of the presence of the protest camp in the churchyard. St Paul's asked everyone to respect this need and to acknowledge the risk to the life of the cathedral posed by the current situation," read its opening statement.
"The cathedral has managed so far to remain open on a reduced basis. The increased scale and nature of the protest camp is such that to act safely and responsibly the cathedral must now review the extent to which it can remain open for the many thousands coming this week as worshippers, visitors and in school parties. Is it now time for the protest camp to leave? The consequences of a decision to close St Paul's cannot be taken lightly."
The Occupy London protest began at noon Saturday just outside St. Paul's Cathedral. During its opening hours, while no exact numbers have been reported, IBTimes reporters at the scene estimated the protesters numbers to be in the low thousands.
The protesters had originally planned to move from St. Paul's and camp in Paternoster Square. However, during the protest's opening day police, both mounted and on foot, blocked protesters' path to the their intended cap site.
Rather than break-up the protest, the police tactics led to protesters setting camp just outside the steps of St. Paul's.
The protest is now entering its fifth day and despite the triumphant tone of its "evolving" manifesto, reporters at the scene have suggested a marked decrease in the number of participants camping at the site.
The news follows an escalation in tensions between U.S. police and Occupy Wall Street protesters after the NYPD arrested high-profile writer Naomi Wolf for challenging officers treatment of the protesters.