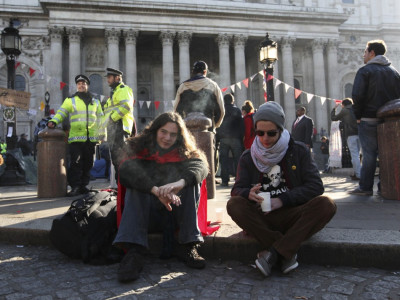 It has been four months since a group of protesters, angry at the financial system and politicians who helped bring about the vast economic crisis we are still muddling through, pitched up tents outside St Paul's Cathedral right alongside the London Stock Exchange.
They were fuelled by the Occupy Wall Street demonstrations in New York in which hundreds of people set up camp in the United States' financial heart to rail against the capitalist system.
Ever since Day 1, the St Paul's camp has faced political and legal challenges to its existence.
London's mayor Boris Johnson told protesters to leave, St Paul's Cathedral officials flipflopped between support and opposition - and lost two of its senior clergymen in the process - and Prime Minister David Cameron urged the protesters to go away.
In the end it was a high court battle with the City of London Corporation, the authority that governs the Square Mile in which the camp is pitched, that forced the protesters pack their bags.
An appeal court judge upheld an earlier high court judgement ordering the camp to be evicted.
As the protesters prepare for eviction, International Business Times UK looks back at the camp's four months.