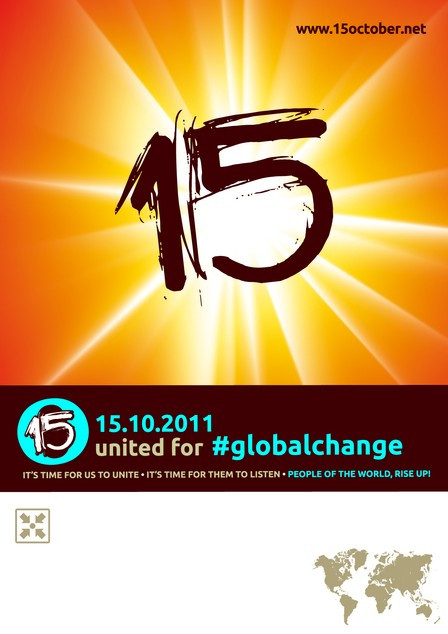 Alongside reports that the movement has collected $150,000 in private donations, Occupy Wall Street and the host of groups associated with it has put out a global call-to-arms, asking all like-minded individuals to join it on 15 October, turning a host of isolated protests into a "world revolution."
The call to arms came after the Occupy Wall Street movement voiced its active support for the "UNITED FOR #GLOBALCHANGE" movement.
Escalating the ongoing series of Occupy protests currently sweeping the globe, the United for Global Change campaign will reportedly see thousands "take to the streets and squares," to protest the world's current economic and political elitism.
"From America to Asia, from Africa to Europe, people are rising up to claim their rights and demand a true democracy. Now it is time for all of us to join in a global non violent protest," read the campaign's opening statement.
"United in one voice, we will let politicians, and the financial elites they serve, know it is up to us, the people, to decide our future. We are not goods in the hands of politicians and bankers who do not represent us. On October 15th, we will meet on the streets to initiate the global change we want. We will peacefully demonstrate, talk and organize until we make it happen."
In its statement the group responsible for the new protest went on to allege that the marches would occur in 826 cities across 76 countries.
The exact numbers participating in each protest are not currently known, though the campaign has since received official support from both the Occupy Wall Street Protest, movement and Anonymous collective.
Citing the success of the Occupy series of protests as proof, analysts have since speculated that the numbers marching on 15 October could stretch into the thousands in certain territories.
The new 15 October movement was spawned from the Democracia real YA platform, which originated in Spain earlier in 2011. Citing similar motives to Occupy Wall Street's "we are the 99 per cent" slogan, the movement saw thousands of protesters take to Spanish streets on 15 May to protest the government's economic policy.