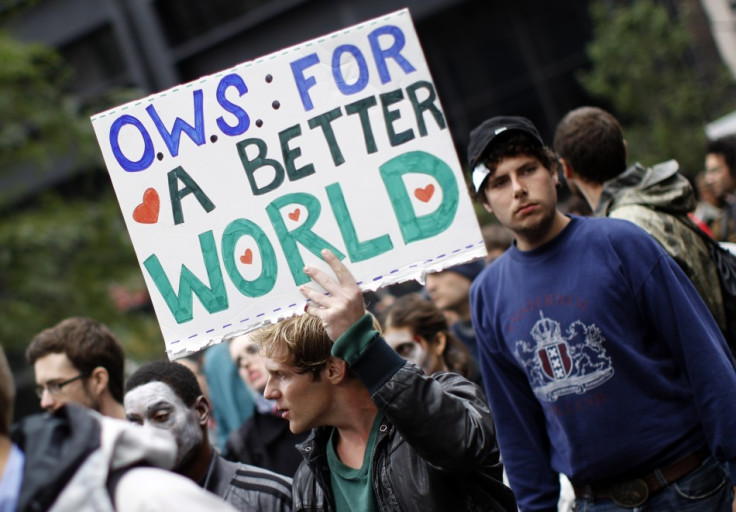 U.S. police have arrested more than 80 participants in Occupy Wall Street-allied protests, at times violently.
Boston
Reports of police arresting a number of participants in the Occupy Boston protest emerged early Tuesday.
Boston police reportedly arrested more than 50 protesters after they ignored warnings to move from a campsite near their official encampment. Speaking to the Associated Press, police spokesman Jamie Kenneally said the arrests began around 1:30 a.m and were mainly for trespassing.
The clash began when participants in the Occupy Boston protest moved from their official Dewey Square campsite to the Rose Kennedy Greenway. Police had reportedly previously sent leaflets to the protesters confirming they could not use the greenway.
According the the police the greenway had recently had $150,000 worth of shrubs planted. Police said officers warned protesters about potential damage to the shrubbery as well as trespassing.
Iowa

Earlier, Iowa police arrested more than 30 participants in the state's Occupy demonstration.
The arrests were reportedly made late on Sunday after protesters ignored police instructions to leave the state Capitol grounds in Des Moines. According to the police, the protesters had been instructed to leave the grounds after they closed at 11 p.m and the police only arrested those that ignored the warnings.
Unconfirmed reports suggest that despite the arrests there are still several hundred protesters still participating in the Iowa Occupy campaign.
Occupy Wall Street
The arrests all occurred during offshoot movements stemming from the Occupy Wall Street protest, now in its fourth week. Since the beginning in New York, Occupy protests have sprung up across the U.S., all claiming "we are the 99 per cent."
Since news of the arrests broke hacker collective Anonymous has issued a statement promising to enact a revenge attack on the New York Stock Exchange. But the exchange said its site was not compromised.