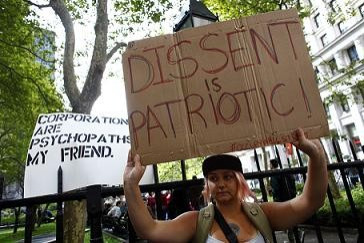 The New York police officer identified by Anonymous and a number of Occupy Wall Street protesters as responsible for attacking peaceful participants with pepper spray is already being investigated for acts of brutality in an earlier protest, according to media reports.
According to a report from the Guardian, the deputy inspector responsible for the attack was Anthony Bologna -- the same officer previously named in a number of tweets by Anonymous. The paper said it has uncovered evidence suggesting Bologna had already been accused of false arrest and civil rights violations in 2004, at the Republican National Convention.
The Guardian said it had received the information from Alan Levine, a civil rights lawyer representing Post A. Posr, a protester at the 2004 event. Levine reported that Posr had filed a federal court action against Bologna and another officer, Tulio Camejo, for their conduct in 2007. The case is expected to be heard next year.
Posr was arrested on Aug. 31, 2004, after he "approached" the driver of a vehicle covered in anti-abortion slogans. The lawsuit came after Posr suggested Bologna had falsified his statement, claiming Posr had "hit the man with a rolled up newspaper," when he had only attempted to talk to the man. The charges against Posr were reportedly dropped two months later.
The news follows a "name and shame" campaign carried out since Sunday, asking police to explain why pepper spray was used on apparently peaceful protesters. The incident was one of many captured in three videos released on Anonymous' AnonOps Web site. The attack shown in the video saw an officer corral and use pepper spray on a group of female protesters, seemingly without provocation.
Bologna was only later publicly named via two statements on Anonymous' AnonOps and AnonymousIRC Twitter feeds.
"Ohai Captain Anthony Bologna, enjoyed your macing? http://bit.ly/obXLXr & http://bit.ly/pkRep1 How is it to be identified? #OccupyWallstreet," read the first tweet. "Call Mr. Bologna and ask him why he pepper sprayed innocent people? (212) 334-0611 #AnonOps #OccupyWallStreet."
Prior to the the tweets, Anonymous issued a slew of statements indicating plans to launch a series of revenge attacks against law enforcement for its treatment of the protesters.
Following the news, a report from The New York Times stated that a police spokesman confirmed that pepper spray had been used, but within the guidelines of reasonable force. "Pepper spray was used once... after individuals confronted officers and tried to prevent them from deploying a mesh barrier - something that was edited out or otherwise not captured in the video," said spokesman Paul Browne.
The police still have not released any official information on the identity of the officer responsible for the attack.
A live video feed showing the Occupy Wall Street protest as it happens can be viewed here.