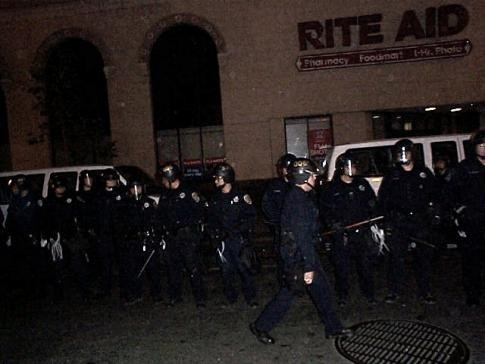 Riot police attempting to forcefully disperse the Occupy Oakland movement used tear gas, rubber bullets and armoured vehicles on protesters in the California city Tuesday night, witnesses said.
The movement's Web site, occupyoakland.org, charged brutality by police who broke up their encampment Tuesday morning and later battled protesters that night.
"This [Tuesday] morning at 5am over 500 police in riot gear from cities all over central California brutally attacked the Occupy Oakland encampment at 14th & Broadway. The police attacked the peaceful protest with flash grenades, tear gas, and rubber bullets after moving in with armored vehicles," read the protesters' statement.
The group went on to allege that the police had attempted to block the media from covering the acts of brutality.
"Apparently the media was not allowed in to document this repression, and the police established barricades as far apart as 11th and 17th. Over 70 people were arrested and the camp gear was destroyed and/or stolen by the riot police."
Reports by the protest's alleged "leaders" suggested the march on Tuesday was attended by more that 1,000 people. The leaders went on to suggest that at least 85 of the 1,000 strong host of protesters had been arrested during the police's violent raid.
Reports from numerous news outlets, including Reuters, suggested that police had broken up the crowd of protesters using tear gas and a stun grenade.
The news follows similar reports of mass arrests in the Chicago Occupy movement. Earlier in October reports suggested that at least 130 Chicago protesters had been arrested.
The arrests and reports of violence come as tensions between U.S. police forces and Occupy protesters have reached the boiling point.
Since the initial Occupy Wall Street protest began, numerous reports of police using underhanded and at times violent tactics against protesters have emerged.
Prior to this there were numerous recorded incidents of police either beating, or using mace against seemingly peaceful protesters.
The Oakland movement is part of the ongoing series of Occupy protests sweeping the globe.