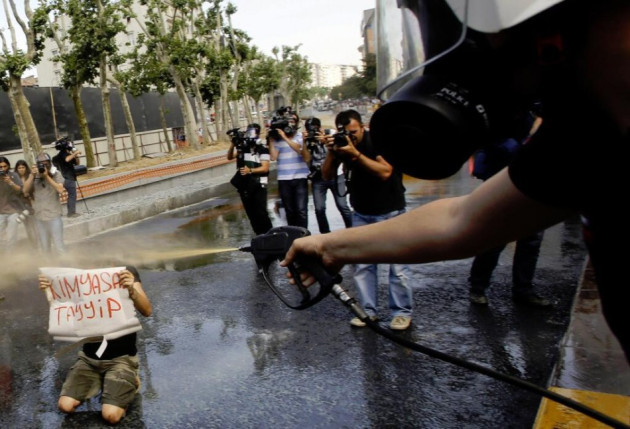 Turkish police have launched a harsh crackdown on protesters camped out in Istanbul's main Taksim square in a campaign against turning one of the few city centre parks into a shopping mall.
Riot police fired teargas and water cannons at demonstrators as contractors moved into Gezi Park after dawn to uproot trees. One unconfirmed report said that one person had died in the clashes.
Zeynep Tufekci, a Princeton fellow in sociology based in Turkey, reported on Twitter that one activist died from a heart attack in the protest.
Reported death from #geziparki is @keremck. Conflicting reports on cause. Gas, heart attack, traffic. Will check. @jilliancyork @acarvin

— Zeynep Tufekci (@techsoc) May 31, 2013
For three days the new Occupygezi movement has been resisting carving up the park.
"The transformation of Taksim into a commoditised space with no parks and space for people to gather together isn't a meaningful plan when Taksim has historically been a place for public demonstrations and protests," activists said.
The movement was also protesting against plans to rebuild historic barracks from the time of the Ottoman Empire to make way for a shopping arcade. Protesters trying to block bulldozers chanted slogans before police moved them on.
"The protest against the demolition of the park has widened into a broader demonstration against the government," said Alberto Tetta, an Italian freelance journalist based in Turkey.
The anti-government fight tied "all the sociopolitical movements that oppose the conservative and authoritarian policies of the government, such as the ban on alcohol sales and demonstrations in the middle of the city", he told IBTimes UK.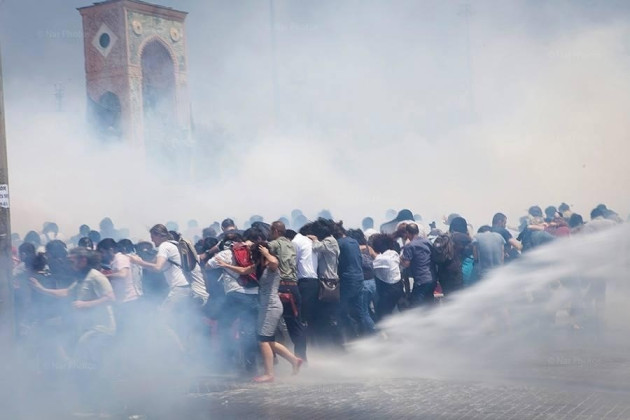 Prime minister Recep Tayyip Erdogan said the government had made its decision and there would be no U-turn on the park's destruction. "They can do whatever they want. We've made our decision, and we will do as we have decided," he said.
According to local sources, 100 people were injured in the demonstrations, among them an Egyptian tourist who was being treated in hospital for serious injuries.
Prominent journalist Ahmet Sik, who writes for daily Posta and BirGun was taken to hospital with a teargas injury and reporters from Hurriyet Daily News were also hurt in the clashes.
The Istanbul Chamber of Medicine reported that seven people had been seriously injured. Six people were suffering from serious head trauma and one victim, said to be a teacher, had a broken leg.
Amnesty International criticised the police for excessive force.
Local media reports that at least six retail chains had decided to withdraw from the shopping mall project after the demonstrations.