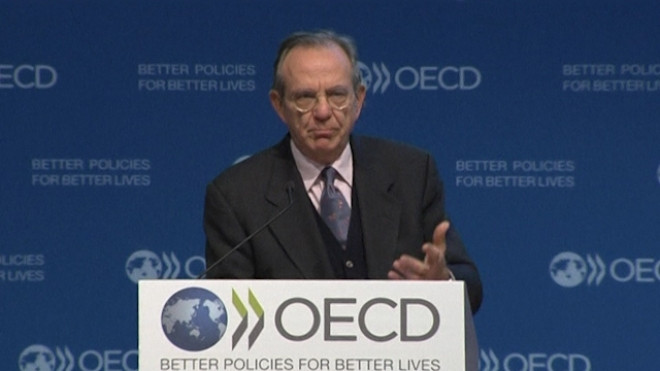 Capital outflows from emerging markets could intensify and hurt global growth as the US Federal Reserve continues with its tapering, according to a report.
The Organisation for Economic Co-operation and Development (OECD) said in its interim economic assessment that advanced economies are recovering from the financial crisis, but activity is mixed in emerging economies.
"The gradual recovery in the advanced economies is encouraging, even if temporary factors have pushed down growth rates in the early months of this year, while the slowdown in emerging economies is likely to be a drag on global growth," OECD deputy secretary-general and acting chief economist Rintaro Tamaki said in a statement.
The recovery is advancing well in the US and the UK, but recovery is proceeding more unevenly in Japan and lagging in the euro area, according to the OECD. The uneven pace of growth has been attributed to one-off factors such as the severe winter weather in North America and concerns about the April 1st rise in Japanese consumption tax.
Some emerging economies such as China are growing at a fast pace, but others have lost momentum and are slowing down.
The US Fed has "only just begun" its bond tapering and "there remains a risk that capital flows could intensify", said Tamaki. Many emerging countries have already experienced capital flights and slide in their currencies due to the tapering.
At the same time, Spain, Britain and other European countries with large banking exposure to emerging markets could be at risk of fresh financial strains.
Tamaki noted that Spain has the largest bank exposure to emerging markets among advanced economies, representing 35% of the country's gross domestic product. Spain is followed by Britain at 21% and Holland at 18%.
European banks are already under pressure from forthcoming stress tests from the European Central Bank (ECB).
"Given that emerging economies now account for more than half the world economy, the slowdown is likely to be a drag on global growth," OECD said.
"With remaining fragilities in the euro area, Japan only just beginning to confront its daunting fiscal challenges and the possibility of a slowdown in China, it is critical that advanced and emerging economies alike recognise the growing importance of structural reforms to reinvigorate growth and boost job creation," Tamaki added.