One person was killed when a ride malfunctioned and came unhinged at the Ohio State Fair in Columbus on Wednesday night (26 July). At least seven others were injured of which three are in a critical condition, Ohio State Highway Patrol Superintendent Colonel Paul A Pride said.
Three persons were taken to Ohio State University Wexner Medical Center, the hospital's spokeswoman Eileen Scahill said.
According to local news station WKBW, the accident took place at around 7.19pm local time (12.19am BST) on the Fireball ride.
Mother-of-three Rhonda Burgess, who was at the fair and one of her sons was in line for the next ride to the one that malfunctioned, told CNN
"The ride had four riders per cart. This piece snapped off and the riders came out of the cart," she said. "At least two (people) flew through the air at least 20 feet before landing on their backs on the concrete."
Inspectors who examined the ride earlier found nothing of concern, Michael Vartorella, chief ride inspector of the Amusement Ride Safety Division said.
"It was inspected at couple of different stages and it was signed off today," he told reporters.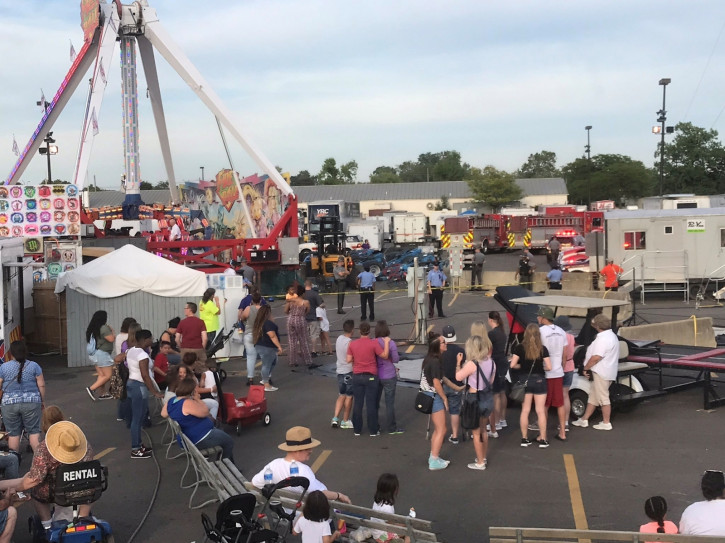 A video taken by a bystander shows a portion of the ride come loose as the fast-moving carriage with passengers is thrown into the air.
Following the incident, Ohio Governor John Kasich ordered all rides at the fair to be shut down until each one of them is inspected.
"I am terribly saddened by this accident, by the loss of life and that people were injured enjoying Ohio's fair," Kasich tweeted.
"Our thoughts and prayers go out to those grieving and injured. I have ordered a full investigation into this incident and have ordered that all fair rides be shut down until additional safety inspections can be completed."