Dozens of screaming people were trapped underneath a fairground ride in China after it collapsed seconds into an amusement ride.
A nine-year-old child and eight adults were injured when the ride fell to the ground just moments after starting at a Temple Fair in China's Xihe county in the Sichuan Province.
A group of children were strapped in to enjoy the ride on the first night of the amusements when it malfunctioned, bringing the iron column crashing down to the floor, which was displayed in horrifying footage from the China Global Television Network state broadcaster.
The stand snapped which sent sparks flying, said an observer to the Beijing Youth Daily.
The seats then fell just moments after, with riders and attendees screaming as the seats plummeted from a five-metre height.
"Fortunately, it was not completely into its cycle, because if it was it would've been much higher up and more people would have been hurt," said a witness.
One victim, a child, was seriously injured in the freak accident, and was shortly rushed to the First People's Hospital in Tianshui City.
The remaining eight victims were taken to the Xingkang Hospital Observation to be checked over.
Although Temple fairs across the country are extremely popular, the oldest of its kind is the Chengdu Temple fair in the south-west of the country.
The festivals, which are held to celebrate Chinese spring take place across China, and have existed for thousands of years, dating back to the Qin dynasty.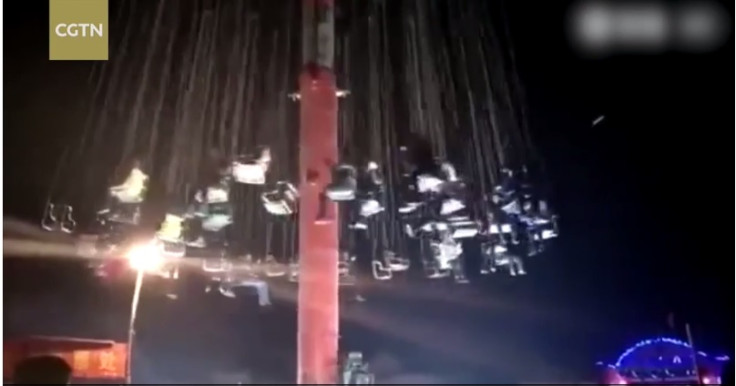 The celebrations, which include fairground rides, performers and traditional cuisine normally carry on for two weeks, and can see up 2 million people attending and taking part, says Chinese state press agency Xinhua.
Police are investigating the incident, and the owners of the facilities were taken in by the police for questioning. The ride has since been demolished.
In Zhaohua Park in Fengdu County in China in February, a 14-year-old girl was flung to death after clinging for her life to a fairground ride that was rapidly spinning for five seconds, said the People's Daily Online.