Oil prices ended lower for the week on the prospect of a revival in Libyan crude exports and as the threat of Iraqi supply disruptions receded.
Brent crude was down 36 cents to finish at $110.64 a barrel on 4 July.
The contract lost over two percent for the week as a whole.
US crude was down 29 cents to $103.77 a barrel on 4 July amid thin trade owing to the Fourth of July holiday.
The contract lost 1.9% for the week.
Commerzbank Corporates & Markets said in a note to clients: "At less than $111 per barrel, the price of Brent oil has come down by almost $5 over the past two weeks. On the one hand, market participants are less concerned about oil production in Iraq; on the other hand there are hopes that Libya will ramp up its supply. According to the EIA, Libyan output in June totalled just 200k barrels.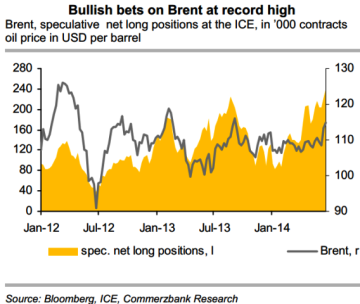 "The country hence accounted for half of [Opec's] unplanned production outages. Now, however, two occupied ports with a shipping capacity of approximately 500k barrels a day have been reopened. Provided Libyan supply were to rise sustainably, Brent oil prices are likely to slip below $ 110 per barrel, as the recent price uplift was above all driven by speculative investors. At the ICE, net long positions in Brent hit a new record high in June."
"Moreover, both [Opec] and IEA will release their first estimates for 2015 in the week ahead. The expected uptrend in global oil demand should be roughly in line with this year's increase. However, with non-OPEC output growth likely to ease slightly, oil markets ought to tighten somewhat, which would underpin our view of moderately rising oil prices next year," Commerzbank added.
Standard Chartered said in a note: "Geopolitical and policy risk in key commodity-producing regions is likely to remain high. We do not expect a swift resolution of the domestic conflicts in Iraq, Libya and some other MENA countries.
"The ability or otherwise to maintain normality in commodities exports when there is abnormality in the ability of central government to govern will likely become a more important theme in driving longer-term energy supply expectations. We also do not expect a swift process of detente between Russia and the G7 group in particular..."
Middle East Crisis
Sunni militants from the Islamic State (IS) control all the main oil and gas fields in Syria's eastern Deir Ezzor province which borders Iraq, according to a monitoring group.
IS, formerly known as Isis, the Islamic State of Iraq and al-Sham, had previously seized control of the major al-Omar oil field but smaller oil facilities remain in the hands of local tribesmen, said the director of Syrian Observatory for Human Rights, as quoted by AFP.
While the group's advance through Iraq appears to have been checked by government-backed resistance, IS remains in charge of a number of revenue generating energy facilities across the two countries. Selling oil provides a vital economic lifeline for the group, which has been branded a terrorist organisation by the US.