Oil benchmarks registered modest gains on Friday (24 March) as US President Donald Trump inked his final approval to the controversial Keystone XL pipeline, reversing his predecessor Barack Obama's decision to block the project.
Speaking from the White House's Oval Office, Trump said the Alberta, Canada to Texas, US extension of the original Keystone pipeline was a "historic moment for North America."
"It's gonna be an incredible pipeline – the greatest technology known to man or woman. And frankly, we're very proud of it." Trump added, flanked by Energy Secretary Rick Perry, and high ranking executives from project sponsor TransCanada.
TransCanada initially applied for a permit for the project in 2008, but neither Bush nor Obama administrations awarded it with final approval in the face of stiff competition from environmental groups and farmers.
A spokesperson for the US State Department said the project would create 3,900 construction jobs over two years. The department also said 42,100 ancillary jobs would be created during construction related to food, housing and other services for workers. The pipeline still needs approval from the state of Nebraska, where it would stretch for 275 miles.
At 3:49pm GMT, the Brent front month futures contract was up 0.18% or 9 cents to $50.65 per barrel, while West Texas Intermediate (WTI) was 0.25% or 12 cents higher at $47.82 per barrel, reversing four days of intraday declines.
Reports of a decline in Saudi Arabia's exports to the US also offered a slight window of opportunity for WTI future to rise. Nonetheless, the crude market continues to grapple with the downside drag of higher US crude production versus upside pull of Opec cuts, ahead of a crucial meeting between Russia, Saudi Arabia and others later this week under the auspices of Opec.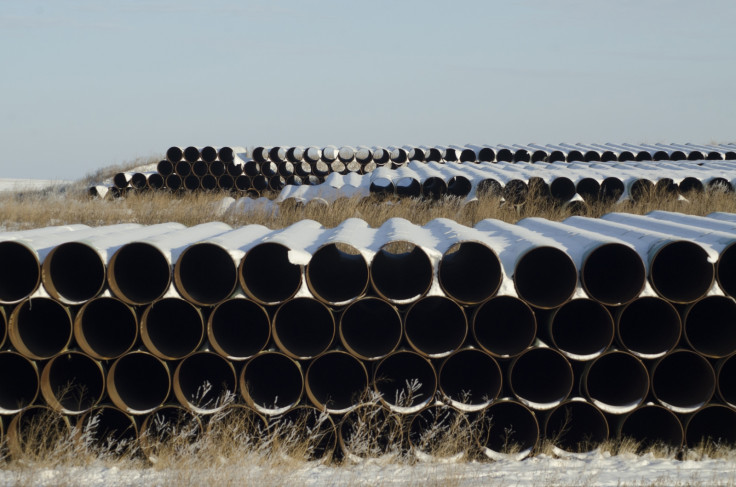 Many assume that Opec would extend its production cuts, announced on 30 November 2016 in concert with 11 non-Opec producers, beyond June. However, dissensions in the cartels ranks appear to be on the horizon.
Overnight, data aggregator Argus reported that Opec member Ecuador, which had pledged to limit production to 522,000 barrels per day (bpd) for six months starting in January, down from an average of 548,000 bpd in 2016 would seek an exemption from any proposal to limit production beyond June.
Members Nigeria, Libya and Iran are already exempt from the current agreement calling into question the whole premise of such an extension.
FXTM research analyst Lukman Otunuga said oil markets remain under pressure as fears heighten over the global glut. "Sentiment remains firmly bearish towards oil with further downside expected as the fading confidence over the effectiveness of Opec's output cut encourages bears to install renewed rounds of selling."