Oil futures rally as Opec agrees to cut oil production by 1.2m barrels per day
Brent, WTI trade higher following agreement in Vienna to cut Opec production in conjunction with Russia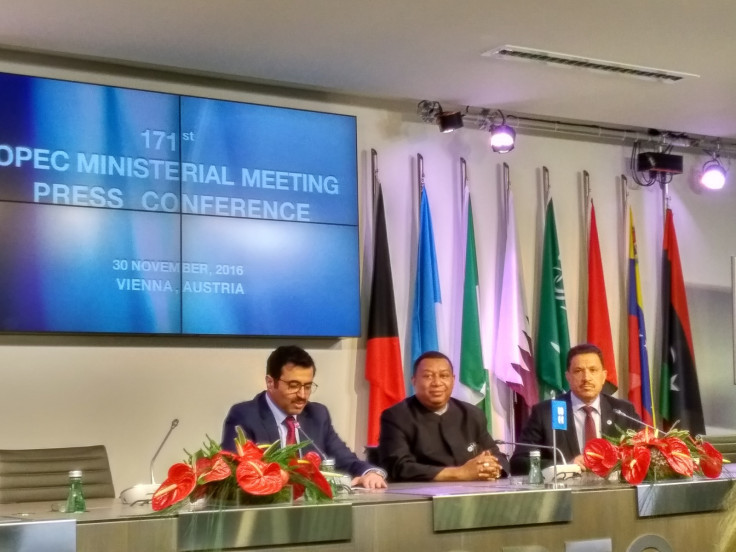 Opec agreed to cut its headline oil production by 1.2m barrels per day (bpd) to 32.5m bpd on Wednesday (30 November) at the conclusion of its meeting in Vienna, Austria.
Bulk of the reduction would come from Saudi Arabia, which would account for 486,000 bpd, while Iranian output will rise by 90,000 bpd with the Islamic republic consenting to keeping its production level below its stated ambition of 4m bpd.
Kuwait and United Arab Emirates would lower their production by 131,000 bpd and 139,000 bpd respectively, while Iraq would lower production by 210,000 bpd.
However, Indonesia has suspended its Opec membership after expressing its inability to cut production given that it is a net importer of oil.
Opec said its output cut will be supported by non-Opec producers to the tune of a 600,000 bpd reduction, of which the Russian federation will account for 300,000 bpd. At the conclusion of the summit, Mohammed Bin Saleh Al Sada, Qatar's Minister of Energy and Opec President described the decision as "historic."
"We have no regrets about not having cut production in the summer of 2014. Opec has reacted to current oil market realities in taking this decision and delivered on what we agreed in September [at the International Energy Forum in Algiers].
"We have also established a ministerial monitoring committee chaired by Kuwait, along with Venezuela and Algeria."
In reference to Indonesia, Al Sada said some countries need special consideration. "Indonesia could not participate in the reduction and hence they would like to suspend their membership. They can come back in a smooth manner and return to the Opec fold at a later date."
Al Sada also said a non-Opec cut, while being fronted by Russia, would see participation from other producers.
Oil prices rallied following Opec's decision. At 5:57pm BST, the Brent front month futures contract was up 8.01% or $3.67 to $50.11 per barrel, while West Texas Intermediate was 8.62% or $3.90 higher at $49.13 per barrel.
Jason Schenker, president of Prestige Economics, said the implementation of the announced deal is what the market would be looking at. "For the moment, Opec's task was to take supportive action until the April oil contract, which would find support from higher oil demand on the back of the US summer driving season. I think today's announcement has achieved that. That said we will see market volatility for much of the first quarter of 2017,"
Paul Mumford, fund manager at Cavendish Asset Management, said: "We have seen so many Opec meetings come and go without agreement, so it is good to see that a decision has been reached today. The likely scenario is that the price will surge [as we have seen already] before settling over the coming days as the markets get used to the new agreement.
"The low oil price environment has forced efficiencies in the conventional drilling and fracking industries, meaning that many are well positioned to capitalise on a price rise and we should see healthier margins in the future as a result."
© Copyright IBTimes 2023. All rights reserved.