A new report has claimed that OJ simpson is bombarding his former friend Kris Jenner with love letters in an attempt to woo her from behind bars.
It is claimed that the former football player has become fixated with the Kardashian Matriarch, 58, during the six years he has spent behind bars in Nevada since his 2008 robbery conviction and has been trying to convince her to come and visit him by bombarding her with letters at every opportunity.
According to The National Enquirer, "O.J.'s desperate for face-time with Kris and has been laying it on thick in his letters, telling her how beautiful and sexy he thinks she is and what wonderful memories he has of their time together."
Despite being locked up, the former Heisman Trophy winner, 67, allegedly believes he is still famous enough to be able to impress the star and even envisions making an appearance on a Keeping up with the Kardashians episode one day.
"Obviously her power and money is a huge attraction to him, as well as her looks – and he's clearly got it in his head that her cash could get him an early release,' revealed an insider to The National Enquirer".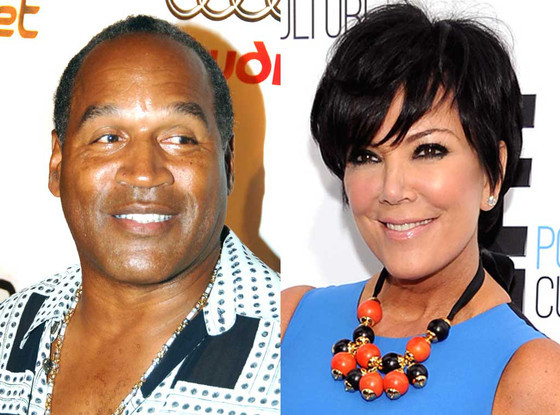 Meanwhile the Kardashian Matriarch, 58, has reportedly said she finds it creepy and has described Simpson's letters as "her worst nightmare".
Another source told The National Enquirer: "She wants no involvement with O.J but he's pleading with her to visit him in jail and go over some very important issues that he wants to discuss with her in person."
The reality star's late husband, Robert Kardashian was once Simpson's closest friend and a member of his "Dream team" of lawyers who helped him escape conviction in 1995 for the murder of his wife, Nicole Simpson and her friend Ronald Goldman.
In recent years reports have surfaced claiming Jenner had an affair with O.J Simpson in the mid-80's, before the trial took place, and that he even fathered Khloe Kardashian - all of which the TV star has denied.
However, the former NFL player is not fazed about his shady past and instead believes he has lots in common with Jenner from the "old days" which gives him carte blanche to the brunette talkshow host.
Unknown to Simpson it looks like he is not held with the same affection by Kris Jenner who revealed in her memoir, And All Things Kardashian: "I Instinctively knew that in some way O.J had something to do with Nicole's death."