Oklahoma: Satanic Temple Unveils Design for Baphomet Devil Statue
Satanists hope to build 7ft Satan statue next to Ten Commandments memorial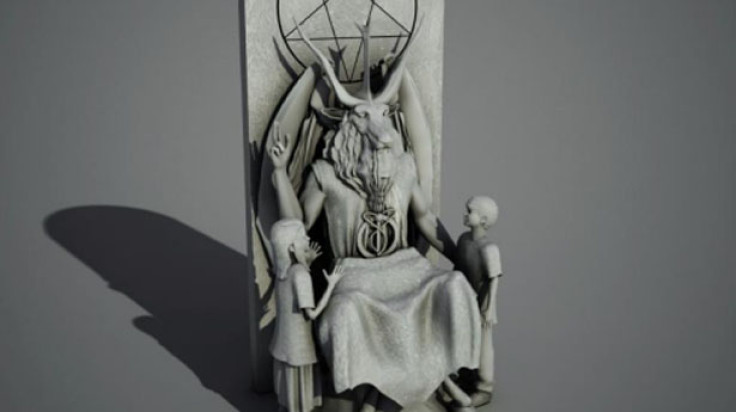 A group of Satanists who hope to build a statue of the devil next to a monument of the Ten Commandments by Oklahoma's Capitol building have unveiled their proposed design.
The Satanic Temple, a New York-based organisation who describe themselves as "the most active satanic organisation in the world", applied for a permit to erect a monument of Satan next to the Ten Commandments memorial.
The group argued that the Commandments statue had opened the door for other religions to be allowed to erect memorials to their faiths on Capitaol grounds.
The American Civil Liberties Union of Oklahoma has taken cout action to have the Ten Commandments memorial removed on the grounds of religious discrimination.
The satanic group monument would be a 7ft (2.1 metres) sculpture of Satan in the form of Baphomet, a goat-headed figure with horns and a long beard.
Satan sits on a throne with a pentagon inscribed on it and two small children standing beside him. The group had said that it hoped the statue would act as an "object of play for young children" and Satan's lap would serve as a seat for visitors "for contemplation".
The statue would be inscribed with quotes from Lord Byron and William Blake.
Lucien Greaves, spokesperson for the Satanic Temple, said: "The monument has been designed to reflect the views of Satanists in Oklahoma City and beyond."
Others groups who have applied to have a monument outside on the Capitol grounds include a Hindu group, animal rights group Peta and the satirical religious group the Church of the Spaghetti Flying Monster.
The Oklahoma Capitol Preservation Commission has issued regulations suspending more requests pending the outcome of the ACLU lawsuit.
The Satanic Temple has raised three quarters of its $20,000 (£12,000) fundraising target to erect the memorial.
A message on its Indiegogo page said: "Allowing us to donate a monument would show that the Oklahoma City Council does not discriminate, and both the religious and non-religious should be happy with such an outcome.
"Our mission is to bring people together by finding common sentiments that create solutions that everyone can appreciate and enjoy."
© Copyright IBTimes 2023. All rights reserved.