Team GB's attempts to build on their three athletics gold medals continued in impressive fashion, as Lawrence Okoye reached Wednesday's men's discuss final.
Okoye had failed to achieve the qualifying standard of 65 meters in his first two throws, but the British record holder produced a sterling effort with his third, reaching 65.28 meters to qualify fourth for the final.
Reigning champion Gerd Kanter qualified 1st for final, but Okoye, the British record holder possesses a genuine threat as Great Britain look to add to their athletics total.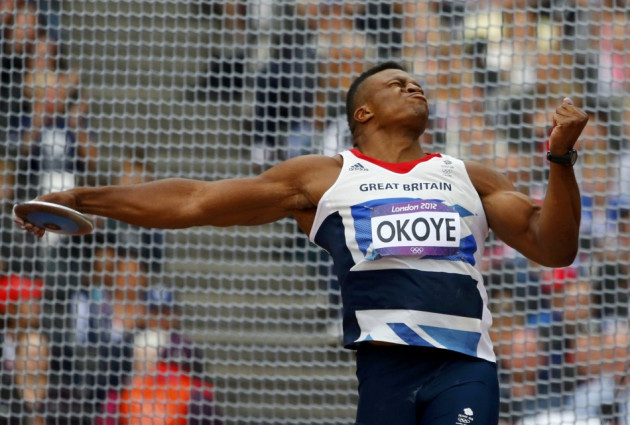 "Words can't describe how I feel, thanks to EVERYONE for their support! An even bigger day is coming tomorrow!!" Okoye said on Twitter.
Team-mates Brett Morse and Abdul Buhari both failed to reach the 12-man final, but the latter was pleased to have performed in front of a capacity crowd at the Olympic stadium.
"I've never been to a competition where you have 80,000 people for a qualifying round," said Buhari. "For us this is really good.
"This was the first time Britain have had three guys making the (discus) team. Hopefully we can continue to do so, make finals and win medals.
"I actually want to thank the lottery guys too. All those guys who have been out there and bought a ticket, they've contributed to every single Team GB member being here today.
"All the camps we do, all the preparation work, the lottery helps massively. I hope those guys continue to support us through the next Olympic cycle."
Elsewhere, Great Britain will have three women in the 1500m semi-final, after Hannah England, Lisa Dobriskey and Laura Weightman having all automatically qualified for Wednesday's next round.
Dobriskey was the most impressive of the trio in reaching the semi-final, winning heat two, while Weightman finished sixth on her Olympic debut.
World silver medallist England goes into the semi-final as GB's best medal hope and qualified fifth fastest and admits that after a pre-Olympic injury scare, she was delighted to get through round one.
"I'm so so happy," England said. "The last time I did a race like this it was Crystal Palace and it was nothing like that, I'm very relieved.
"I earned my selection through the work I did before I got injured and making the semi-final was about all the cross training and all the work with my medical staff and my coach partner and I'm so excited I get to race more than once.
"I can't believe I'm here and that I've run like that, that will bring me on a lot in two days' time."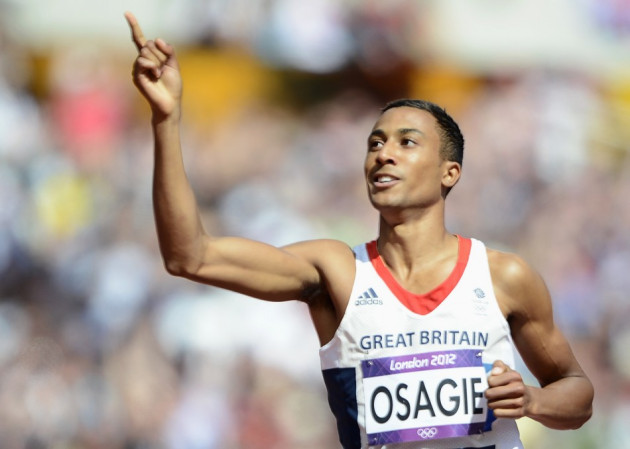 The hosts endured contrasting fortunes in the men's 800m however, with Gareth Warburton and Michael Rimmer both failing to reach Tuesday evening's semi-final.
Warburton, who survived an appeal to reach the Olympics, finished fifth in his heat, while Rimmer led out for much of heat five, before also finishing fifth.
Rimmer said: "Difficult to say, I'm shocked. I wasn't really bothered with the time I just wanted to get in the top three.
"The plan was I knew that if I got to the break mark I could take it, and I was comfortable taking it myself but unfortunately my legs didn't have the change of gears.
"I don't know why, in Portugal I was PBing every session so I don't know to be honest I'm confused."
Great Britain's sole entry into the 800m semi-final will be Andrew Osagie, who finished third in heat two behind world record holder David Rudisha.
"I was comfortable, I was in a position where I was outside the qualifying until the last two or three meters which is not ideal but I didn't panic and I was comfortable with where I was and I'm glad to get in the automatic top three yes I'm happy," the 24 year old said.
"I'm renowned for being rubbish in the heats and I really struggle to get out on these mornings so when it's night time and it's a crazy atmosphere like this I'm sure I'll be fine tomorrow.
"This crowd has been unbelievable the last few days. We're trying to match that crowd with our performances. We're all trying to step up as Team GB but I've qualified and I'll come back tomorrow and hopefully put a show on for the crowd again."
Tiffany Porter defied her injury problems from the London Grand Prix to qualify for the semi-final of the women's 100m hurdles, finishing third in heat one.
Porter came into the Games with a concern over a back injury, but the American born hurdler came through unscathed.
"I haven't raced since Crystal Palace where I had bit of [an injury] scare," Porter said. "So I just wanted to come out here, execute and qualify for the next round because that's all that matters at this point.
"I'm good; I'm fine and looking forward to a semi-final. I was so appreciative, it was a big help and it pushed me through.
"Absolutely, I was really nervous I haven't slept much the last couple of days. I'm glad it's over and I can move on to the next round, I'm excited"
World 100m hurdles champion Sally Pearson won heat five after her own problems at Crystal Palace, and said: "It's really nice to have support out there when you're not in your home country and you're on the other side of the world it really was special out there.
"I was really quiet nervous for that race. I'm glad it's out of the race and I can go back and fix my body for tomorrow.
"There's nothing I can do about it now is there? There's no more work to do this is it and the first race out of the way, I'm taking one race at a time and tomorrow is just another day at the office and I'll see what I can do."