Team GB have taken out their second Gold in as many minutes, with canoe slalom pair Tim Baillie and Etienne Stott taking out first while David Florence and Richard Hounslow collected the silver in their event on Thursday afternoon.
Florence and Hounslow won their semi-final, while Stott and Baillie qualified sixth for the final run, with the latter pair facing a tough battle to overtake their opposition without being aware of their scores first.
With Hounslow and Florence both failing to qualify for their singles events, all hopes were left with the two teams to finish well, and Team GB couldn't have asked for any better than to take out Gold and Silver in the doubles.
Baillie and Stott knew they were guaranteed a medal after French pair Gauthier Klauss and Matthieu Peche slammed into a gate and ensued a two-second time penalty. The pair were then guaranteed Gold after unbeaten brothers Pavol and Peter Hoschschorner of Slovakia faltered.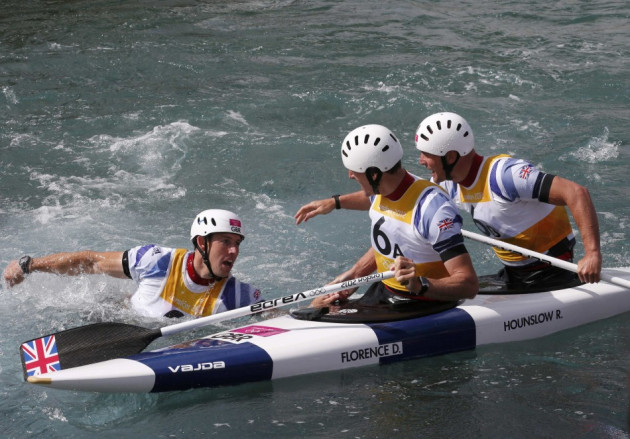 It is Team GB's first medals in the canoe slalom event, and to dominate the event with Gold and Silver made the moment even more special for the four athletes.
While Florence and Hounslow had the chance to pip the Gold from their fellow Brits up until their turn in last place of the final, they finished 0.36 seconds outside Ballie and Stott's time.
Stott admitted he would have been happy with any position, telling reporters: "I would have been happy to get fourth, but to win is just mad. The run we had, I was hoping it might be good enough for a medal, the quality is so high and the sport is hard to be consistent. It's is brilliant."
Baillie added: "It is weird. It doesn't seem like that is happening. It's unreal. We did feel the pressure. For me I felt we needed something to go right today, we needed boats in the final and there is nothing taken for granted."
The win capped off a particularly successful day so far for Great Britain, with a silver from the rowing already under their belt, and a Gold medal won just minutes before thanks to trap shooter Peter Wilson. Gemma Gibbons is still to go in the Judo final and is guaranteed at least a silver, and Sir Chris Hoy and Victoria Pendleton both hold big hopes for tonight's cycling.