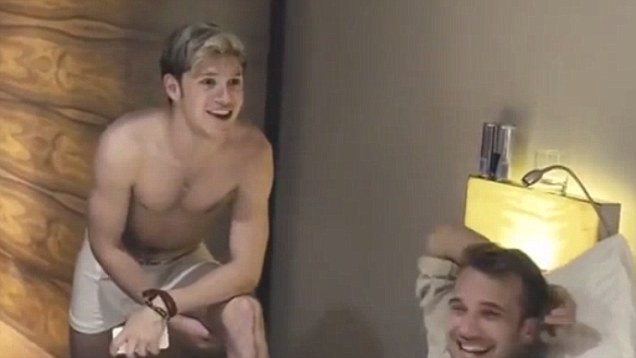 One Direction have been sharing a little more than anyone anticipated, in the behind-the scenes video of the making of This Is Us.
Giving new meaning to the term 'access all areas,' recent video footage shows Niall Horan dancing to the band's hit song Steal My Girl ... in just his underpants.
While the documentary promised "more shirtless moments than you can imagine," noone expected to see the Irish heart-throb prancing around in just a pair of tight, white boxers.
The 21-year-old showed off as he performed the new single in his hotel room, with band member Zayn Malik looking on.
Demonstrating his dance moves and his impressive physique he challenges Malik to a sing-off as they recorded the track for their new album FOUR.
The British band, who are preparing for their Where We Are tour, filmed the fly-on-the-wall sequences giving a candid insight into their lives.
The debut film, This Is Us, raked in £40 million at the UK and US box office and topped the box office in its opening weekend.
The DVD, which was released six days before Christmas charted at No1. Their NBC TV special aired on 23 December, drawing in 3.1 million viewers in the US.
Harry Styles, Louis Tomlinson, Zayn Malik, Liam Payne and Horan are currently promoting their fourth album, FOUR.