One of the world's biggest icebergs is about to break away from Antarctica
Iceberg 1/4 the size of Wales would result in the Larsen C Ice Shelf losing over 10% of its area.
A giant iceberg is about to break away from an ice shelf in Antarctica. When it finally splits, the 5,000km berg will be one of the biggest on record, reducing the size of the ice shelf by up to 10%.
Scientists have been tracking a rift on the Larsen C Ice Shelf for over two years. In August last year, researchers from Project Midas announced the crack had grown "significantly and rapidly" during the polar night. Compared to March 2016, when it was last observed, it had grown by 22km.
Now the team, based in Swansea, has said the rift has increased further. "The Larsen C Ice shelf in Antarctica is primed to shed an area of more than 5,000km following further substantial rift growth," they said in a statement.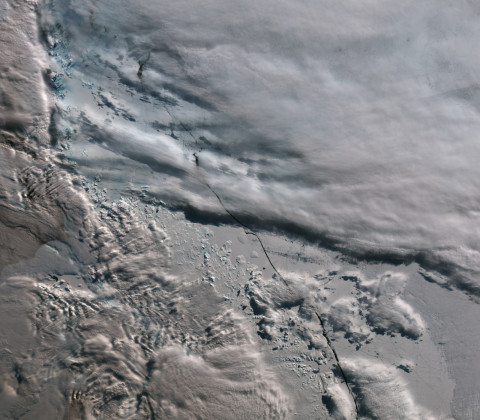 "After a few months of steady, incremental advance since the last event, the rift grew suddenly by a further 18km during the second half of December 2016. Only a final 20km of ice now connects an iceberg 1/4 the size of Wales to its parent ice shelf."
When it finally breaks off, the shelf will be at its most retreated position ever. Computer models indicate Larsen C will end up like its former neighbour Larsen B, which will collapse entirely by 2020.
A huge chunk broke away between 2002 and 2003 and it has been disintegrating ever since – warm currents slowly melted the underside away. The Larsen A disintegrated in 1995.
Project Midas, based in the UK, is an Antarctic research project looking at the effects of the warming climate on the Larsen C ice shelf. "When it calves, the Larsen C Ice Shelf will lose more than 10% of its area to leave the ice front at its most retreated position ever recorded; this event will fundamentally change the landscape of the Antarctic Peninsula," the team said.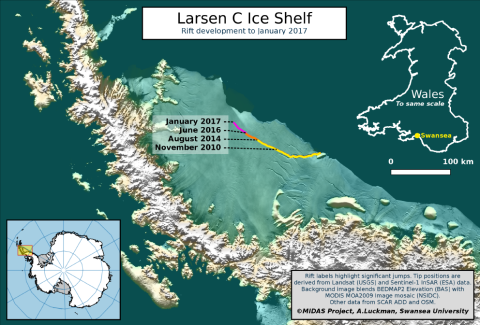 Speaking to BBC News, project leader Adrian Luckman said: "If it doesn't go in the next few months, I'll be amazed."
Should the entire Larsen C ice shelf disintegrate, it could raise sea levels by up to 10cm.
Scientists with Nasa's IceBridge mission photographed the rift in November last year. At the time, they measured the fracture to be 112km long, 91m wide and around 500m deep. "The crack completely cuts through the ice shelf but it does not go all the way across it – once it does, it will produce an iceberg roughly the size of the state of Delaware," the space agency said.