The only solution to a hard Brexit is no Brexit, the President of the European Council has said, dismissing the idea that the UK can retain trade benefits of EU membership whilst rejecting the bloc's key principles.
Speaking in Brussels on Thursday (13 October), Donald Tusk warned Britain that access to the single market goes hand in hand with freedom of movement and that the EU will not budge on this.
Proposals that were made for leaving the bloc during the referendum campaign meant "a de facto will to radically loosen relations with the EU", which effectively amounts to a "hard Brexit," he added.
The pledge to "take back control" – meaning a Britain that is free from EU law, does not contribute to the EU budget and accept freedom of movement – came with "definitive consequences" for the government and negotiations, Tusk told policymakers.
"The only real alternative to a hard Brexit is no Brexit, even if today hardly anyone believes in such a possibility," he said. He added: "The brutal truth is that Brexit will be a loss for all of us."
Prior to Tusk's speech, Foreign Secretary Boris Johnson said Britain would strike "a deal which is of huge value and possibly of greater value" than what it currently enjoys as part of the single market. "We are going to get the best possible deal for trade in goods and services," the leading Leave campaigner pledged.
"Those who prophesied doom have been proved wrong and will continue to be proved wrong," Johnson told the Foreign Affairs Committee.
However, an unimpressed Tusk dismissed the idea and mocked the notion that Britons could "have the EU cake and eat it too". He said: "To all who believe in it, I propose a simple experiment. Buy a cake, eat it, and see if it is still there on the plate."
He noted that Britain's divorce from the EU will be painful, saying: "There will be no cakes on the table. For anyone. There will be only salt and vinegar."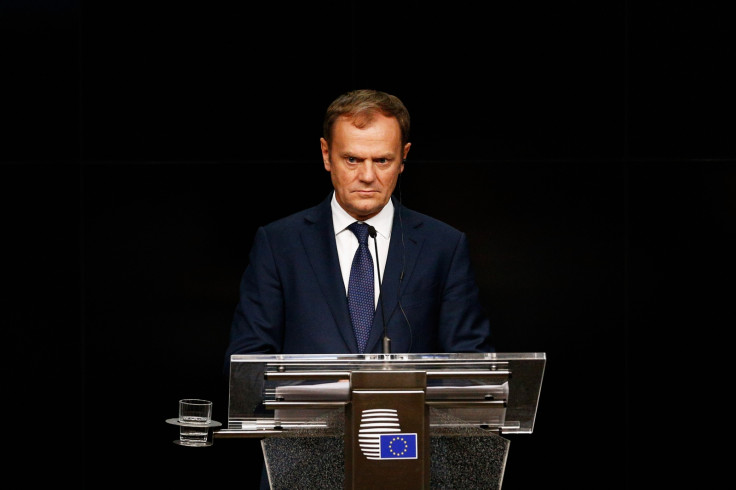 According to reports, Chancellor Philip Hammond is concerned that certain colleagues are failing to fully realise the risks associated with the Brexit process.
"It's pretty clear that of the leading members of the government, only Philip Hammond understands the gravity of the situation," Simon Tilford, deputy director of pro-EU think-tank the Centre for European Reform, told the Guardian.
"What's really spooked people is the suspicion that they really don't know what they're doing," he added.