UK families spent more on housing, fuel and power last year than anything else, according to official figures.
The Office for National Statistics said families spent £68 per week last year on housing, fuel and power, up from £62.80 in 2006.
It said the rise in housing, fuel and power was likely to have been driven in part by hikes in electricity and gas prices.
In addition, the report explained the cold winters of 2011 and 2012 also contributed to essential spending on heating.
The ONS revealed British households spent on average £489 ($802, €583) per week in 2012, a drop from £526 six years before.
The research body explained the fall was consistent with some of the trends seen in the economy during this period, with GDP falling by 7.2% between 2008 and 2009 and intermittent economic recovery between 2009 and 2012.
The study found the largest expenditure categories were housing (excluding mortgages) fuel and power, transport, and recreation and culture.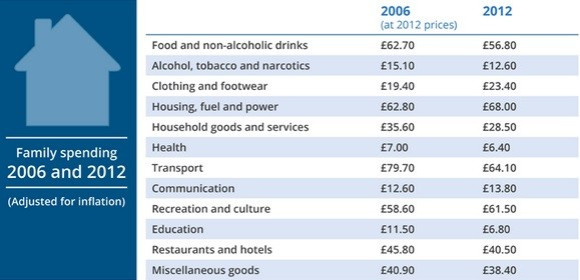 The study also identified rent payments as another factor. The proportion of households renting has increased in recent years, from 29% to 34%.
The ONS claimed the increase in this category was in contrast to the general trend as most types of spending stayed relatively stable or decreased slightly over the period.
The figures show that families are spending less than six years ago, which could be a blow to the government since the opposition are campaigning on a "cost of living crisis" platform.
The data may also rally support for those campaigning against the rise in energy prices, including groups such as UK Uncut and Fuel Poverty Action.
But health campaigners can draw a positive from the statistics as the ONS revealed average household spends on alcohol, tobacco and narcotics dropped to £12.60 per week in 2012 - down from £15.10 in 2006.