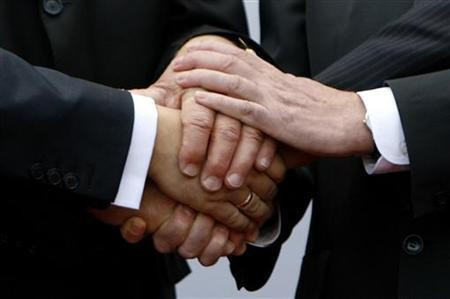 Foreign companies are snapping up a larger volume of British businesses than UK buyers, as domestic M&A deals fell to their lowest number, since the Office of National Statistics data began in 1969.
According to the ONS, the value of acquisitions in the UK by foreign companies, known as inward investment, increased between the fourth quarter last year and the Q1 2013 by 68%.
While the number of acquisitions of UK companies by foreign groups fell by 39 deals, inward investment stood at £3.2bn (€3.7bn, $4.9bn) in Q1 this year, from £2bn in Q4 2012.
However, the number of acquisitions involving UK companies overall, continued a downward trend in Q1 2013.
The amount of deals fell to 60, compared 154, from the same quarter last year.
Domestic mergers and acquisitions between UK companies increased, by only a meagre £300m in the first quarter this year, to reach £1bn.
UK companies are also having trouble snapping up businesses abroad as the value of acquisitions overseas by British firms, known as outward acquisitions, fell to £700m in Q1 2013 from £2.7bn in the previous quarter.
However, if a company has not been snapped up by a private-equity firm, the results may be more in group's favour.
On Monday, IBTimes UK reported that companies that have been taken over by private-equity houses see their aftermath performance slide behind their industry rivals.
According to research by Warwick Business School, Cardiff University and Loughborough University publicly-listed firms that have gone through a private-equity buy-out in the UK between 1997 and 2006, did not have a performance boost as a result.
"What we found was the promised productivity gains of a takeover rarely materialised. Rather, there was evidence of private-equity buy-outs reducing the number of workers and squeezing wages, without making the firm more efficient," said Geoffrey Wood, Professor of International Business at Warwick Business School.