If you've been hoping for a world in which you can wave a magic wand and instantly control all the devices and appliances in your home, then Polish start-up Oort's invention might be the closest thing you get to it.
Oort is the world's first home automation system, allowing you to remotely control all the devices in your home using either a smartphone app or smart wearable wristband.
The system makes use of low-energy Bluetooth beacon technology, which sends signals wirelessly from your app or wristband.
Low-energy Bluetooth technology enables information to be sent to devices that are up to 50m away and, although beacon technology is now being explored for use in shopping malls and airports, up until now there has been no way to get different standalone smart appliances, like a smart fridge or vacuum cleaner, to talk to each other.
Using an Oort smart plug connected to a device like a coffee machine or TV, you could turn it on and off from your bed using the app or wristband right now, but that's it.
If you want more complicated commands that create a true network of all the electrical things in your home, such as lights that turn on automatically when you get home and turn off when you leave, then a beacon will need to be installed in each device and then controlled from a hub in your home connected to the cloud.
Now everything can become "smart"
"You can control your home by pressing a button from your smartphone or wristband. You can set many different actions, such as, when I receive a Facebook message, my lamp will blink, or when someone opens the door, a push message is sent to my smartphone," Oort CEO Radek Tadajewski tells IBTimes UK.
"You could even equip your kid with a wristband so that you are notified when they arrive home from school or leave. The idea is to let people create their own individual internet of things world."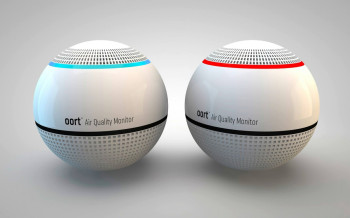 However, the technology is quite simple to install in a device and doesn't cost a lot, and it has the added bonus of using Bluetooth, a technology that has been known about for years, and now has very secure protocols.
Due to the ease and safety of the technology, lots of companies worldwide are interested in bringing Oort's vision to life, from energy meter companies and telecoms providers to huge electronics manufacturers.
Companies that already have smart products, like greenhouse providers, are also keen, as any kind of smart device can work with the hub, so Oort is also working on smart garden tools – beacons embedded with a multitude of sensors that can be placed next to plants to monitor temperature, moisture and other factors.
The start-up has even come up with a smart thermostat to beat Nest.
"Our air-quality monitor can detect 6,000 organic compounds, making it much more useful than Nest, which just detects smoke," says Tadajewski.
Kickstarter: The place to visualise dreams
The firm has spent six months creating the technology and its Kickstarter campaign has been fully funded at $101,068 (£59,063) out of the $100,000 goal, with 22 hours to go.
Oort says it is hugely grateful to the crowdfunding website for providing it with a platform to publicise its invention. The company received thousands of emails in less than a month and has now been invited to pitch its technology at various Bluetooth conferences in Europe.
"Kickstarter was a really important marketing tool for us. It's a huge source of feedback for how people perceive our solution and what consumers really need," explains Tadajewski.
"There's a bridge between the media and Kickstarter. When you are successful on Kickstarter, you get media coverage and that helps you to meet potential partners and customers.
"It's an amazing tool and we'll probably put more products on the site so that we can listen to people and test whether our ideas are okay."
Oort's comprehensive line of products, which includes a wi-fi hub, power strips, wall sockets, beacons for keys, pets and children, and the air-quality monitor, are expected to ship commercially in October.