Virgin Atlantic has chosen London Heathrow Airport to be the first airport in the world for testing out low-energy Bluetooth Beacon technology, as part of the airline's efforts to create a personalised customer experience.
Tiny Beacon devices created by start-up Estimote are stationed on walls throughout the Virgin Atlantic areas of Heathrow Terminal 3, and from today, as passengers walk past, the beacons will send personal notifications to their iPhones.
Low-energy Bluetooth technology enables information to be sent to devices that are up to 50 metres away, and the beacons also make use of geofencing, to make sure only the airline's customers receive messages.
The technology works as long as Virgin Atlantic customers have downloaded their electronic boarding pass to the Apple Passbook app on their iPhone.
Once they enter Virgin Atlantic areas such as the Upper Class Wing or the Club House, passengers will receive welcome message push notifications on their iPhone lock screens, and as they approach airport security or boarding gates, the app will pull up their boarding pass and send them helpful reminders, such as an alert about what time to board.
Customer experience, not just offers
Special offers will be available to customers while they are in duty-free areas, such as 0% commission rates for currency exchange services, but the airline says that this is not its main focus for the technology.
"The way we're looking at [Beacon technology] is probably not quite the standard use of it," Virgin Atlantic's Head of Development for eBusiness James Shanahan told IBTimes UK.
"We're talking in terms of the surprise and delight [aspect], and so while there may be the potential for [retail] discounts and offers, we're actually looking at how we can provide a greater customer experience."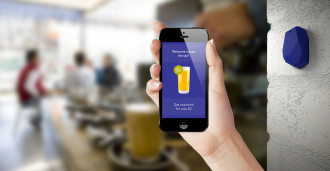 So far, beacon technology has been used by Apple to provide information about products at flagship stores in the US, branded as iBeacon.
In the UK, last month the first shopping centre went live with Beacon technology provided by TagPoints, which allowed mall retailers to send shoppers discounts and offers directly to their smartphones, as long as the shoppers had first downloaded the Swan Centre's SmartRewards app.
Virgin Atlantic is carrying out a number of experiments using Beacon technology at Terminal 3.
Tracking your baggage
"We know who you are, where you are in the airport and on that basis, we also know your customer journey from the Beacons. So if we know when you're going to arrive and what your favourite cocktail is, we can have that ready in the Upper Class Wing," Shanahan explained.
The beacons also come with a thermometer and an accelerometer. Virgin Atlantic has an outdoor deck and the beacons could be used to alert staff to temperature changes, so that they could bring blankets out to passengers if the weather becomes cold.
The airline is also considering placing beacons on each piece of luggage that is checked in.
Using the accelerometer function which monitors movement, in future customers could use the airline's own app to monitor the journey their luggage takes, so they would know when and where to go to pick up their luggage.
Virgin Atlantic is also thinking about ways to serve rich content to passengers on their smartphones, such as a map of the airport showing where amenities and their boarding gate is located, or even advance information about what is going to be shown on the inflight entertainment system ahead of time.