Opec plans to 'stay steady and go through 9 months' of oil production cuts, says Saudi Minister
Khalid Al-Falih also said he was not concerned about US shale production and described it as necessary.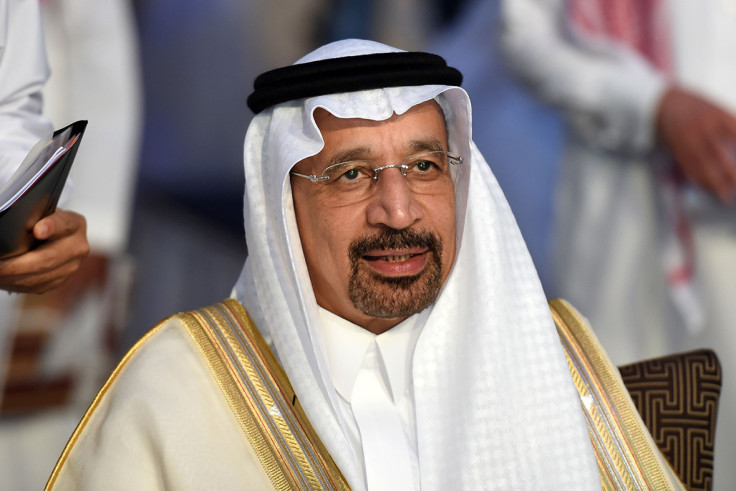 Saudi Energy Minister Khalid Al-Falih has said Opec's plan was to "stay steady" and go through the next nine months of oil production cuts.
Speaking ahead of the Opec Ministers' meeting in Vienna, Austria, on Thursday (25 May) where the cartel is expected to roll over its ongoing production cuts of 1.8m barrels per day (bpd) instituted in concert with 11 non-Opec producers, Al-Falih said: "There have been suggestions, but there is no need for deeper cuts. It is likely the oil market will balance earlier rather than later; there are so many variables and we will adjust to the circumstances. Plan now is to stay steady and go through the next 9 months."
Al-Falih also said Saudi Arabia, which is Opec's leading producer and power broker, will not increase its production in the summer months when demand for oil is traditionally high.
"Rather, Saudi Arabia will stick to its stated production cap. Furthermore, there will be no cap for Libya and Nigeria. We expect substantial drawdown in oil inventories in the second half of the year."
Al-Falih declined comment, when asked by IBTimes UK if Opec's actions were in effect subsidising rising levels US shale production, tipped by some to touch nearly 10m bpd in 2018. However, he later said: "I don't see US shale derailing. I think shale is necessary in the years to come. We have said all along there is likely to substantial decline from legacy oil basins of 3-4m barrels per day, plus incremental demand of 1.3 to 1.5m bpd over the coming years.
"Shale would contribute to this dynamic and grow as part as of incremental non-Opec barrels. I am not concerned."
Al-Falih also sidestepped the question of Opec's exit strategy from the current cuts. "We don't intend to exit – so we have not developed a strategy; if there are any unforeseen circumstances, Opec is very agile and we will do what is necessary."
The market is largely pricing in a 9-month roll over of Opec and non-Opec cuts, with Russian Energy Minister Alexander Novak and Al-Falih due to hold a join briefing at 4pm BST. Brent was down 0.61% or 33 cents at $53.63 per barrel, while the West Texas Intermediate was down 0.82% or 42 cents to $50.94 per barrel at 10:53am BST.
Abhishek Deshpande, lead oil market analyst at Natixis, said: "The genie appears to be out of the box, I think we will have a nine-month rollover to the ongoing production cuts. It's highly unlikely we'll have a 12-month extension.
"Don't forget that some Opec members would like to exit the cuts strategy sooner rather than later, and it's highly unlikely the likes of Iran would agree to a rolling over of cuts for longer than 6 to 9 months."
© Copyright IBTimes 2023. All rights reserved.