The hacker cell of the Anonymous collective has targeted the UFC, defacing its official website and posting data taken during a cyber raid on its networks.
The attack began on Friday morning when numerous Twitter accounts associated with the Anonymous collective, including AnonymousIRC and YourAnonNews, publicised the OpUFC campaign.
As well as being designed to protest the Ultimate Fighting Championship's (UFC) support for the controversial Stop Online Piracy act, OpUFC was also intended to "punish" comments made by UFC president Dana White.
"@danawhite won't liek [sic] the #cake he's about to receive. #OpUFC" read one tweet from AnonymousIRC. "Answering @danawhite's challenge today, UFC's site has been hacked - stay tuned, we hear moar [sic] lulz are on the way. #OpUFC" YourAnonNews quickly followed up.
The comments were made during a video interview, where referring to hackers protesting the Sopa, Pipa and Acta acts as terrorists - Anonymous has targeted Nato for listing it in the same category - White defended the controversial bills.
In his statement, as well as suggesting the hacktivists attacks had damaged the anti-censorship cause, White also challenged the collective to attack the UFC.
"All these hackers and all these guys that want to act f*****g cool and think they're f*****g funny, you guys just flipped the switch and believe me I have a lot more information on what's going on than you do," said White. This bill that was looking like it was going to be dead, you may have brought it back to life."
Finally adding: "I'm not afraid of you, you don't f*****g scare me, you come in and do your thing, you don't scare me."
Anonymous attack was three fold, with the collective defacing the UFC site's front page, publishing a list of documents taken from the UFC networks and posting White's personal contact details online.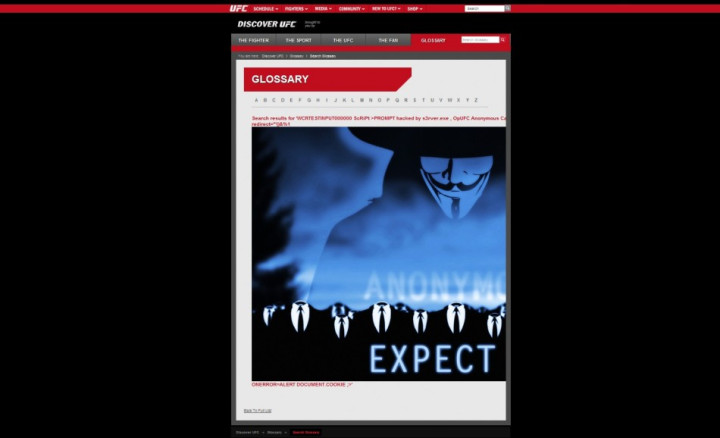 The Acta call to arms came as a part of Anonymous' ongoing campaign against internet censorship. Though always a common theme in the collective's statements, the campaign escalated at the end of 2011 when Anonymous publicly attacked the US Stop Online Piracy (Sopa) and Protect intellectual Property (Pipa) acts.
Designed to combat online piracy, the two now defunct acts came under wide-spread criticism, with numerous groups voicing concerns about the new powers the act could grant US law enforcement.
As well as using its Twitter feeds to publicise the 18 Januay blackout protest, Anonymous also took a more direct approach, publishing the the names and decisions of US Congressman participating in the vote on Pastebin.
More recently, Anonymous has turned its attentions toward the Anti-Counterfeiting Trade Agreement (Acta). Despite the lack of public awareness, numerous protests have already been enacted against Acta. Most recently a large demonstration was mounted in Poland to protest the government's Acta support.