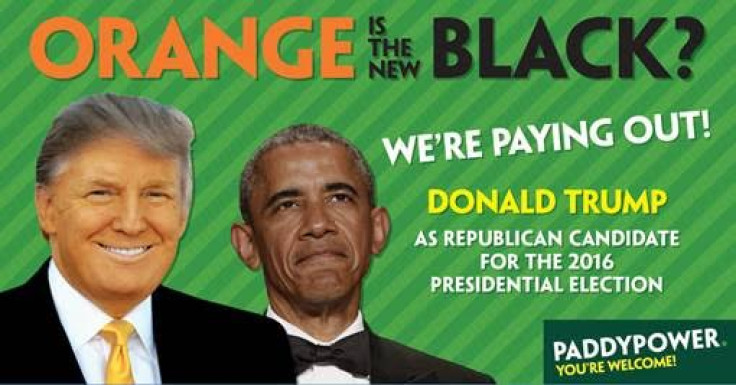 In its usual irreverent style the bookies Paddy Power has admitted paying out more than £100,000 ($139,480) over Donald Trump's Super Tuesday victory as it starts shelling out to punters who backed the property Tycoon to win the Republican nomination.
The gambling company released its figures with an accompanying image, bearing the title Orange Is The New Black, a reference to a popular US TV show. The title pokes fun at Trump's orange skin tone, contrasting it to Barrack Obama, the first black president of the US.
From initial odds of 100/1 to secure the ticket in 2012, Trump's odds were cut to 40/1 after he announced his intention to run for office in June. Since then, his odds have tumbled, Paddy Power explained and punters have been backing Trump at any price they can get their hands on.
With more than 1,000 individual bets placed, Trump has dominated the GOP nominee market with more than 50% of all money going in his direction. Notable bets include £400 at 40/1 (returning £16,400), £1,000 at 25/1 (returning £26,000) and last week the largest bet of the campaign to date, £15,000 at 2/5 (returning £21,000), the online bookies added.
In a statement the gambling company said: "Since 1988 the candidate to clean up on Super Tuesday has always gone on to win their party's nomination. Good news for our punters, if you backed The Donald, come and get your cash – we're paying out. Bad news for the world, this sh*t just got real."
Should he go on to win the White House, punters stand to win in excess of £1m – comfortably the biggest political payout in Paddy Power's history, a figure likely to double or even triple over the coming months on the current trajectory.
Trump's current price of 2/1 represents a 33% chance of succeeding President Obama, while Hillary Clinton remains the 8/15 favourite, from Bernie Sanders at 25/1 and Michael Bloomberg 40/1.
Trump took the lion's share of states on Super Tuesday but lost out in key battles to Ted Cruz. The Texas governor carried his home state and picked up Oklahoma. He also looks set to win in Alaska. Marco Rubio won his first state of the race so far with a victory in Minnesota.
Ted Cruz has called on the other candidates to rally around him in a bid to topple the real estate mogul. However, even if this happens Trump, is already by far the most likely candidate to cross the 1,237 delegate threshold for the nomination.