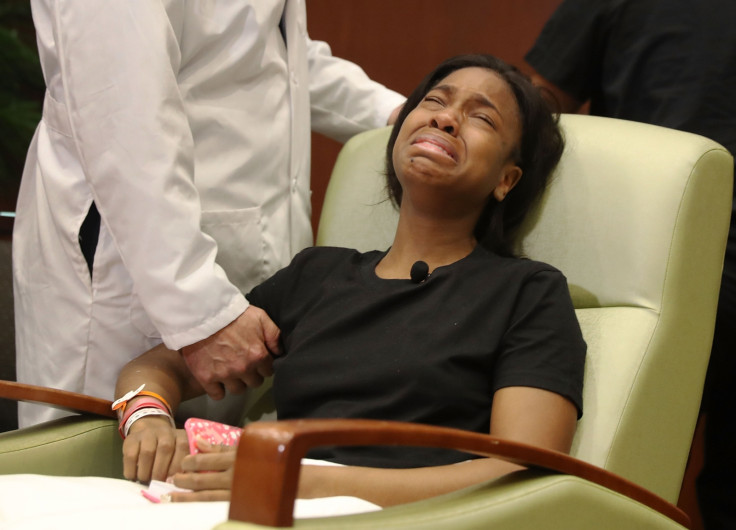 An Orlando shooting survivor is being accused by conspiracy theorists of being an actor paid by the media or the government to help fake the mass murder in the Pulse nightclub on 12 June. Patience Carter had been recovering from gunshot wounds to her leg when she became the target of bizarre social media claims that she was faking her story.
The now defunct YouTube video accuses the survivor of lying about being shot. The odd conspiracy theory claims Carter was posing as a shooting victim and that she is a paid "crisis actor" by Fox 29, the network where she interns and had not been present at Pulse nightclub when the atrocities had occurred.
Carter is one of 53 wounded survivors of the attack, during which killed 49 people. Carter posted a picture on Instagram on Friday of her cast, thanking Orlando Hospital workers and her supporters.
She also thanked "skeptics" who believe she wasn't at the shooting and claim she is posing as a "crisis actor" for Fox 29.
"It's your outrageous insensitivity that makes me want to heal even faster, and grow even stronger," she wrote.
The Philadelphia native had been visiting Orlando for the first time with her friends and had decided to go out to the LGBT club the night of 11 June. She told reporters that they had chosen the venue on a whim after seeing it listed as a popular nightlife spot on Yelp. Omar Mateen had burst into the bar and started firing bullets into the crowd of club-goers moment after Carter ordered an Uber to end their night.
Oddball theory
The strange rumours about Carter originated from a removed YouTube video, which claimed that the Fox 29 intern was a "crisis actor" – someone paid to pretend they've been a victim of a crime.
"This is faked. This is staged. They are using actors. There is no doubt about it. This is 100% bullshit," an unidentified narrator says over a video montage of news coverage
Other social media sceptics piled on the theories by publishing photos of Carter from the night of the attack and manipulating timestamps in a twisted attempt to prove she hadn't actually gone to Pulse the night of the shooting, according to the urban myth debunking site Snopes.
Carter's friend, 18-year-old Akyra Murray, was the youngest victim of the mass shooting, having died after being shot in the bathroom while waiting authorities to stop the massacre. Her other friend, Tiara Parker survived a gunshot wound to the stomach.
Carter wrote a poem of the mixed emotions of surviving such an attack. "The guilt of feeling lucky to be alive is heavy." The poem was shared on Twitter by Kathryn Varn, a reporter of the Tampa Bay Times.
The New York University student is an Emma Bowden Foundation Scholar and is completing her second summer internship at Fox 29. The network offered their support by reported that Carter was in surgery until 12:30am on Monday, due to her injuries.
A weekend co-anchor at the station, Bill Anderson, posted support for the 20-year-old on Facebook: "Patience Carter is motivated, intelligent and ambitious, she didn't deserve this, nor did any of the others," he wrote Sunday. "They remain in our thoughts and prayers!"