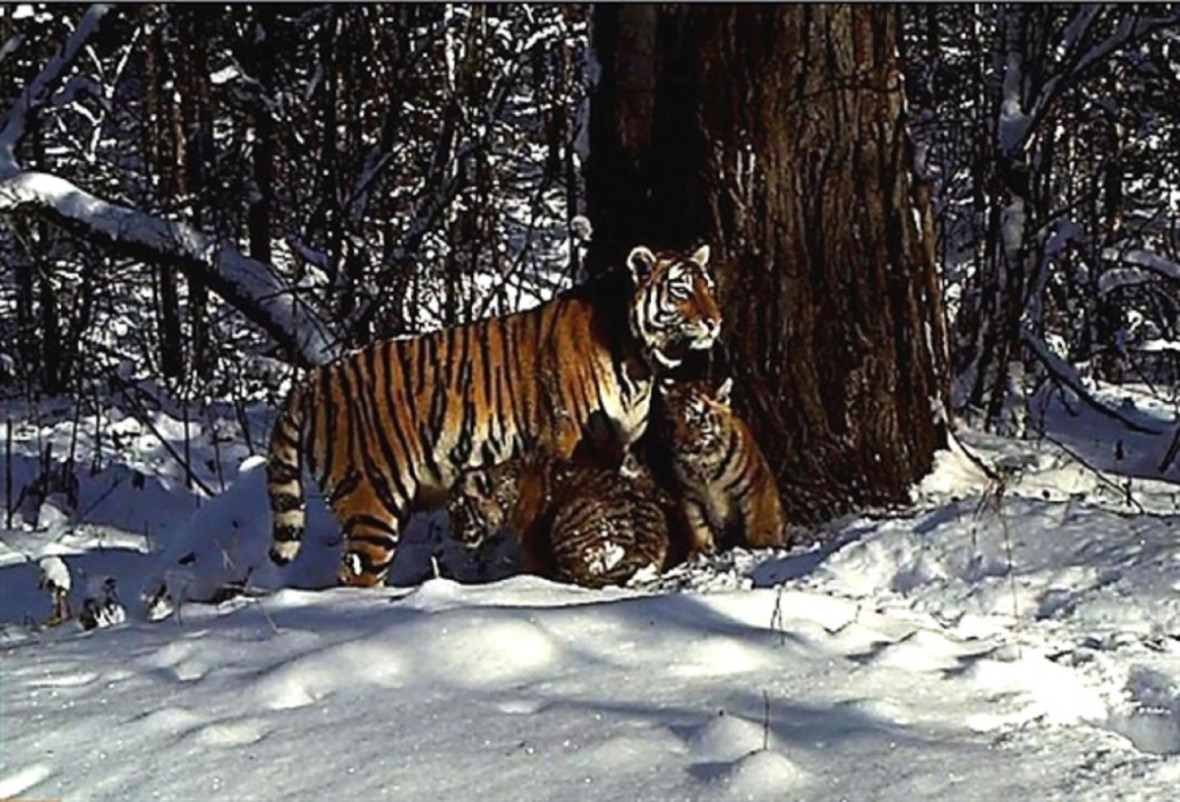 An orphaned Amur tiger that almost died as a cub has been filmed in the wild with her own cubs. The footage was shot in the Bastak Reserve in Russia's Far East, an area that had been devoid of tigers for almost 40 years.
Cinderella – or 'Zolushka' in Russian – was seen standing under a pine tree with her two small cubs. Aleksandr Yuryevich Kalinin, director of the reserve, said: "This is a great day for Bastak Reserve. This demonstrates that there is still suitable habitat for tigers in the Pri-Amur region of the Russian Far East, and there is a place for tigers here."
The tiger was released into the wild two years ago and has since attracted a mate from another region. WCS Russia Director Dale Miquelle called the find a "watershed event" for the entire population of Amur tigers: "These births mark the return of tigers to habitat that had been lost, and the beginnings of a recovery and expansion of the last remaining Amur tiger population into habitat lost years ago."
She was kept away from humans so as not to become acclimated to them and slowly learned to hunt. At the age of 20 months, she was taken to Bastak and released – where she quickly learned to hunt for wild boar, red deer and badgers.
However, with the population of tigers in the reserve limited to just her, the possibility of breeding seemed unimaginable. That ended with the arrival of a lone male that had travelled 200km and eventually found his mate.
Cristián Samper, WCS president and CEO, said: "The story of this Cinderella is no fairy tale. The discovery of Zolushka's cubs is real proof that conservation on the ground, conducted by groups working in partnership, can and does work. Zolushka and her cubs are proof that tiger habitat lost long ago is coming back in the Russian Far East."