With no bizarre Bjork-style swan dress and a distinct lack of anything resembling Celine Dion's backwards tuxedo (sigh), last night's Oscar red carpet contained no real gasp-worthy fashion faux pas.
However, what the fashion contingent lacked in eccentricity, they made up for in spades with a slew of carefully considered outfits and some daring necklines. Rich teals, glistening sapphire, emerald and violet tones were seen on everyone from Naomi Watts to Saoirse Ronan. British actress Kate Winslet gained an extra special award for her oil slick-effect shimmering Ralph Lauren frock.
Rather than boundary-pushing, this year was all about tales of the unexpected, channeling old Hollywood glamour in a revised and confident red carpet. So who wore it best? Here are our top standouts from last night.
Rachel McAdams in August Getty Atelier
The cut was simple, with rich emerald green injecting a sophisticated air. Opting for effortless diamond accents and pulled-back hair, one rather carefully exposed thigh was definitely the talking point.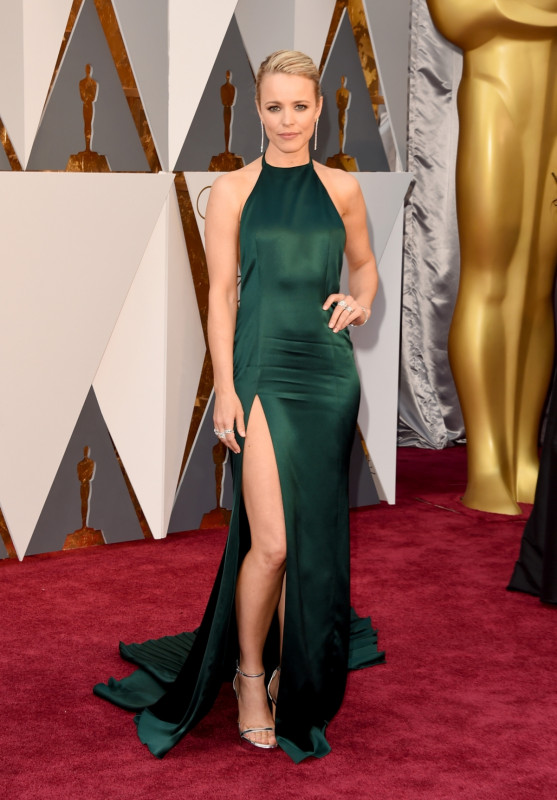 Saoirse Ronan in Calvin Klein and Chopard jewellery
Ronan has been making waves at awards ceremonies recently with her ever-changing look. It was unfortunate then that comparisons were immediately drawn to the fact that her dress looked similar to the frock Keira Knightley wore in the 2007 film Atonement, co-starring Ronan. But no matter. This plunging Calvin Klein, bias-cut gown with swirling liquid sequins in sultry ivy green was a perfect choice for the 21-year-old. Talk about grown-up and daring.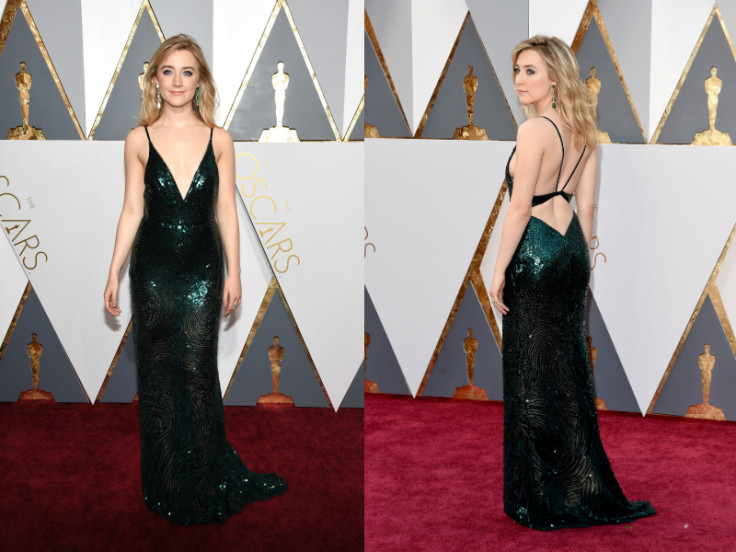 Naomi Watts in Armani Privé
Another member of the wet-look sequin brigade was Watts, who shone in this Armani Privé multi-tonal bandeau gown. The structure was simple but the layered violet and midnight blue hue in rippled sequins drew the eye in, and were off-set perfectly with a rich lip colour.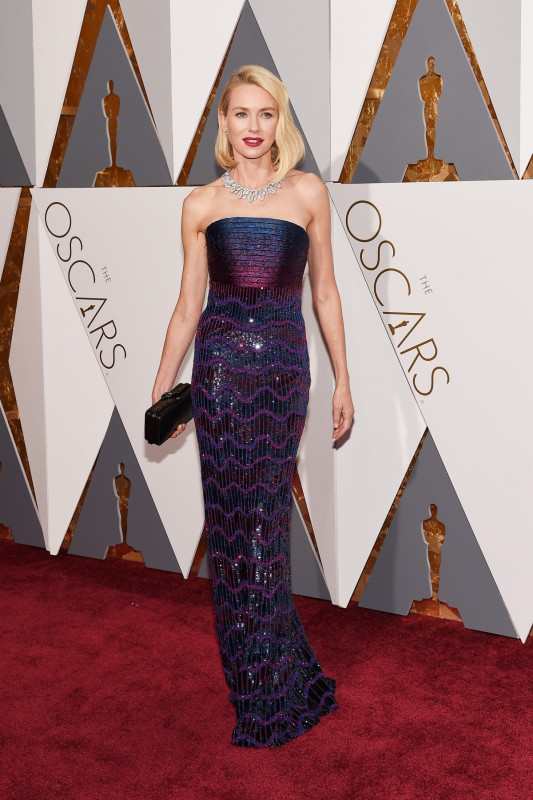 Julianne Moore in Chanel haute couture and Chopard jewellery
The actress often loves to sport a Tom Ford frock, but this time round, Moore and Chanel proved to be a winning combination. Another super-plunging neckline, the couture design that we saw first on the runway on Kendall Jenner looked even better on the flame-haired star. Structured yet romantic with a loose-flowing lace skirt, it was a daring choice for Moore.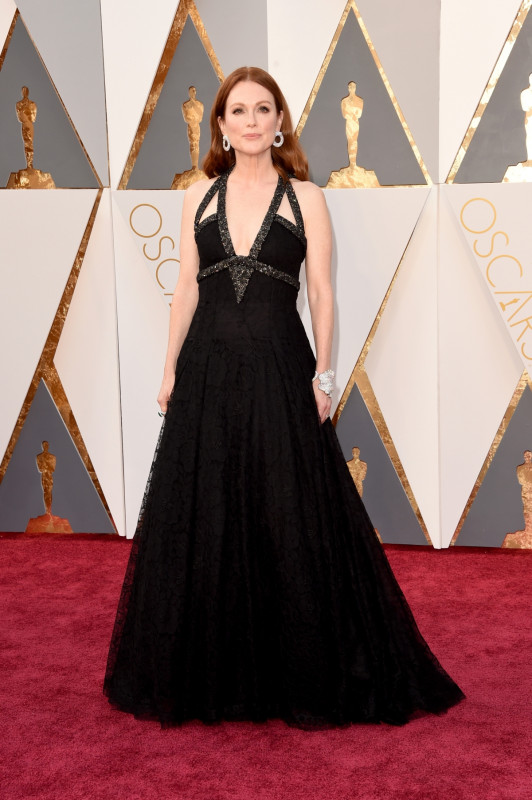 Kate Winslet in Ralph Lauren
While the Oscar-nominated actress had already spilled the beans on which designer she would be wearing before last night, her bespoke Ralph Lauren dress was still something of a surprise. The liquid silk strapless gown may have seemed a simple choice, but the adventurous fabric really stood out, making the actress seem like she was glossed in oil.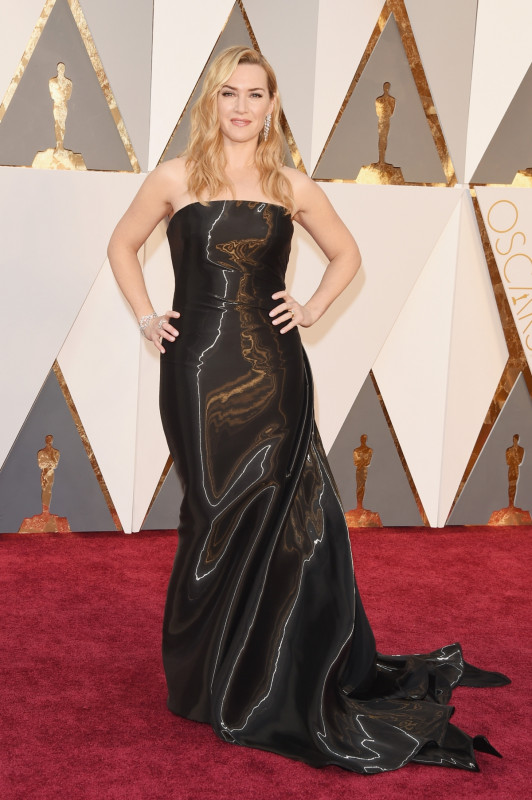 Jennifer Lawrence in Christian Dior and Chopard jewellery
No surprise that the lady of Dior was dressed by the French fashion house, but the icy blonde hair paired with the wafer thin lace and nude lining of the ruffled gown were undoubtedly striking. The plunge element was not as bold as others, but the naked look of the dress definitely caught the eye.
Charlotte Rampling in Armani Privé
Rampling is the embodiment of Saint Laurent's adage that 'fashion fades, style is eternal' and as a result, the iconic actress looked flawless what was said to be the go-to designer of the night, Armani Privé. The graphic printed column dress paired with the block-heeled ballet pump, the shoe of the season, looked endlessly sophisticated and the flash of claret seen in the architectural earrings were a well-placed feature.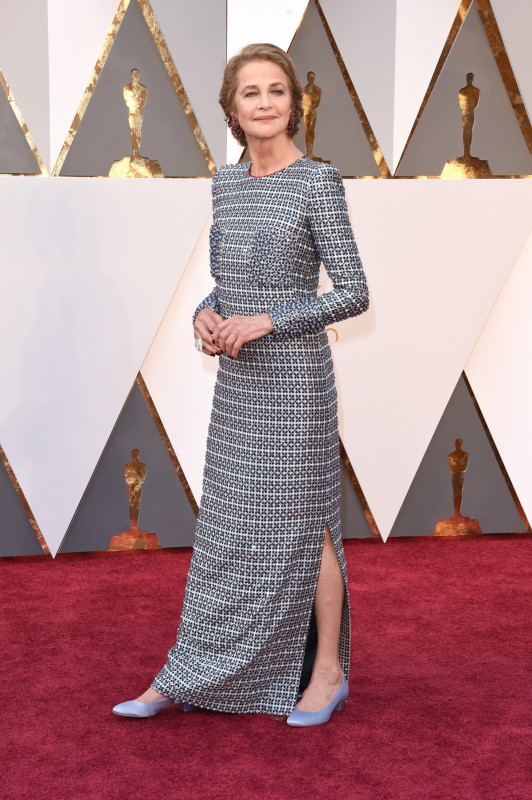 More about Oscars 2016
Academy Award winner Alicia Vikander's Beauty and the Beast fashion moment
Kate Winslet breaks into tears of joy as Leonardo Dicaprio wins best actor award for The Revenant
Host Chris Rock dives into diversity issue in his opening monologue
Kate Winslet and Hollywood react to Leonardo DiCaprio best actor win
Sandy Powell in lurex suit and Tamsin Lilly White harness
Powell has been working the Bowie-esque suit through awards season but that didn't step E! News from mistaking her for Tilda Swinton. Nevertheless, the costume designer definitely made a statement on the red carpet in this graphic suit and enormous platform sandals, accessorising the outfit with a bespoke harness.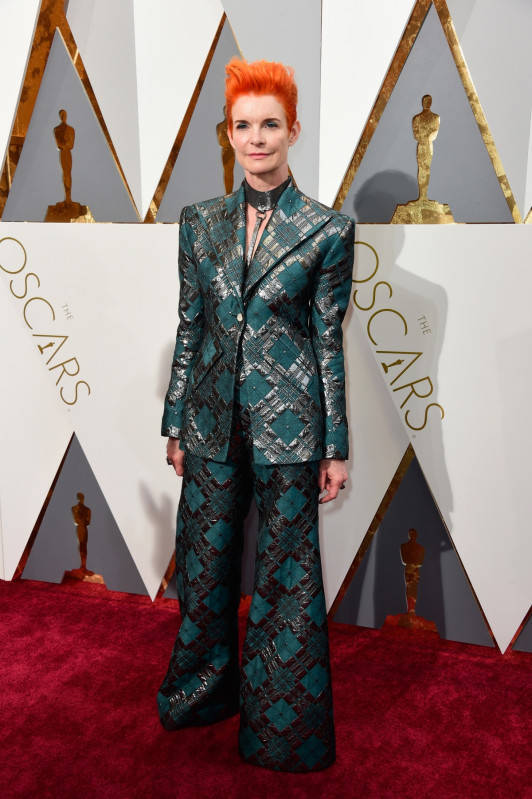 Cate Blanchett in Armani Privé and Tiffany and Co jewellery
Blanchett's dress has divided opinion, which is rare for the usually steadfast red-carpet winner. The pale peppermint tone with overtly feminine floral appliqué design really stood out in the sea of metallic and dark shades and the extreme plunging neckline certainly went along well with the trend of the night.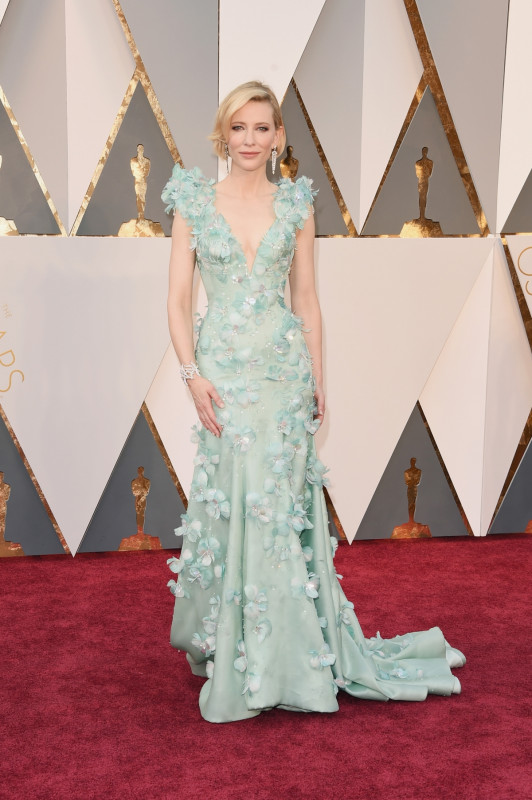 Daisy Ridley in Chanel Haute Couture
Ridley could have played it safe with her choice of frock, being such a newcomer on the scene, but she totally owned the floor in this incredible beaded Chanel gown that screamed old Hollywood, thanks to the ankle-grazing cut. The pulled-back hair, red lip and careful touches of diamond were sophisticated but not ageing.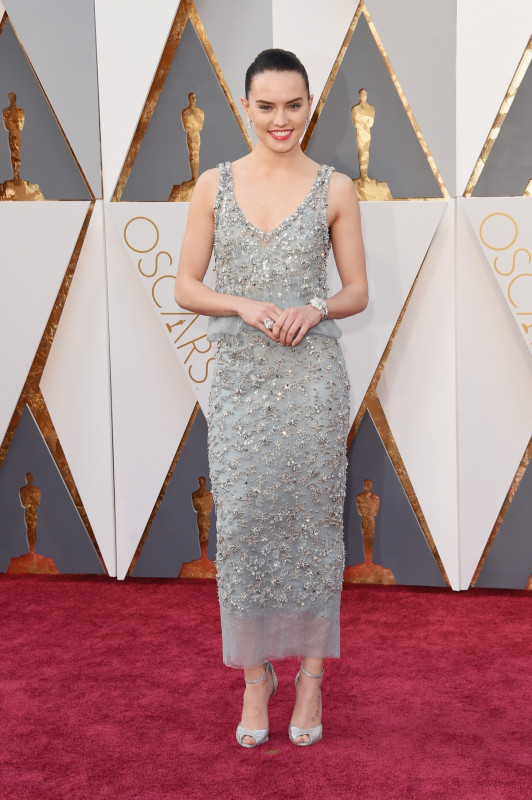 Rooney Mara in Givenchy haute couture

Rooney knows how to take a chance on what looks good on her. In this case, it's a very pale Givenchy gown. Here, the delicate Victoriana lace of the haute couture design was updated with a high-split skirt and exposed midriff. The futuristic three-bun hairdo detail gave the whole look a bit more of an edge.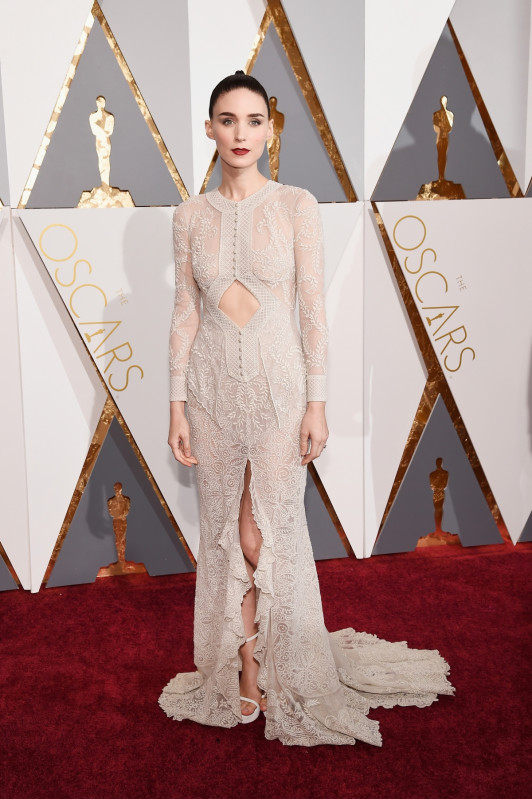 Olivia Wilde in Valentino haute couture and Fred Leighton jewellery
The first thing Wilde said to the press on the red carpet was that her son just said 'boobs' when he saw her in this frock, so he got there before anyone else. The Valentino design was definitely a daring choice, but given the level of plunge across the night, this look fitted in just perfectly. With the caped detail and micro pleat skirt, it was a bygone classic with a modern twist.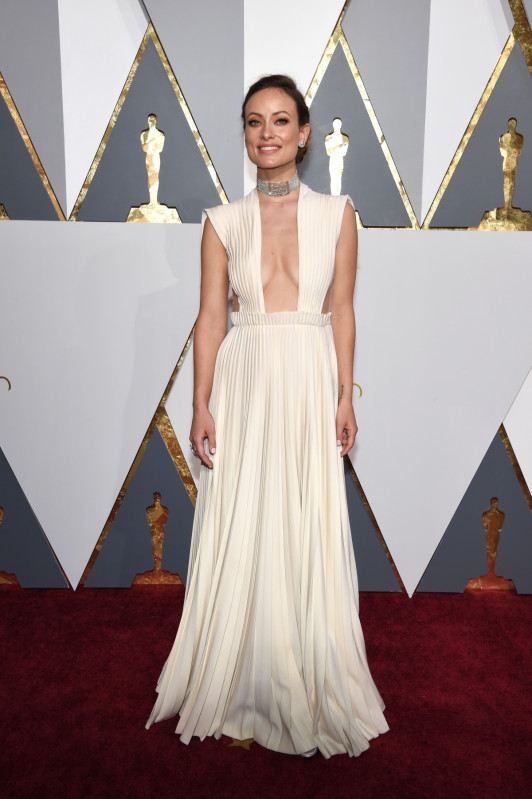 Lady Gaga in Brandon Maxwell
Gaga was never going to let us down on the red carpet, but her Grace Kelly gown meets jumpsuit was just perfection. Designed by her stylist Brandon Maxwell, her outfit looked incredible and utterly different from every angle. The vibrant white effect with her loose blonde waves represented a winner on the night.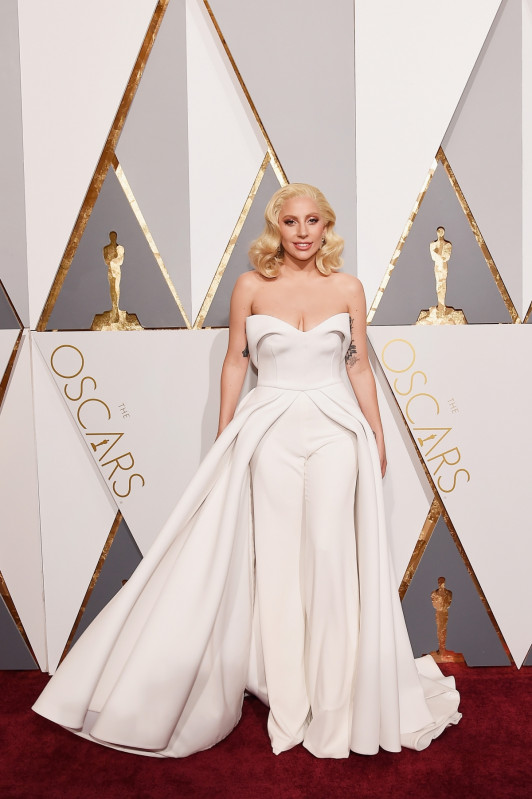 Margot Robbie in Tom Ford, Forevermark Diamonds and The Row clutch
The Big Short star glistened like an Oscar statue on the red carpet in this showstopping python skin-detail gown by Tom Ford with yet another plunging neckline. With bronze make-up and a smattering of Forevermark diamonds and simple tasseled velvet clutch, Robbie managed to channel forties decadence and eighties sex appeal all in one look.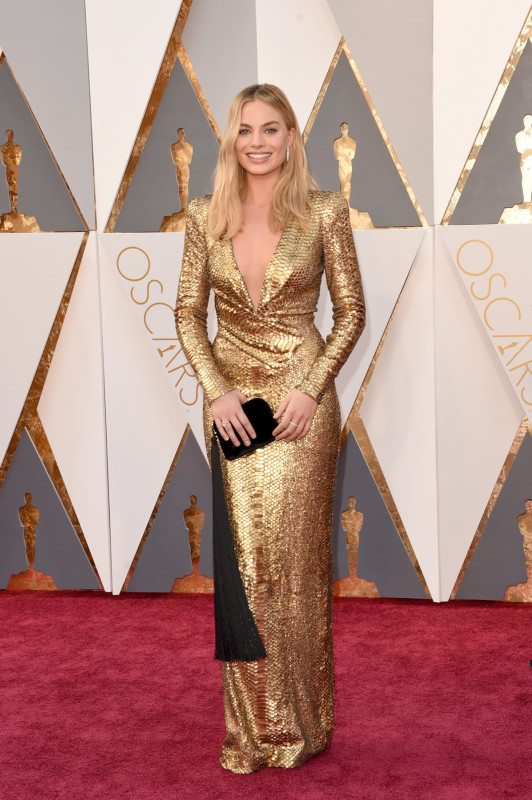 Alicia Vikander in Louis Vuitton
The Danish Girl actress lived out every Disney fan's dream in this billowing Louis Vuitton gown that she admitted was straight out of Beauty and the Beast. It must have worked some fairytale magic though as she took home the Oscar for Best Supporting Actress.