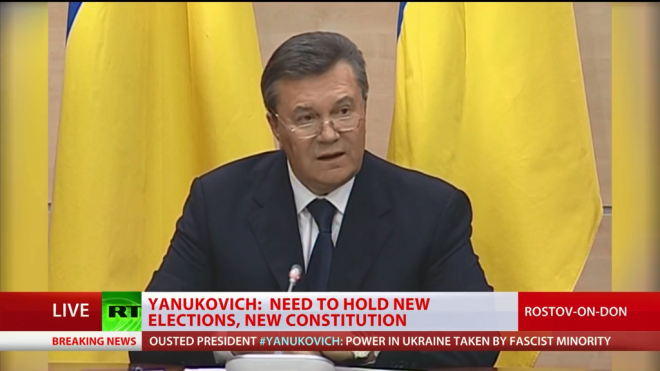 Ousted Ukrainian president Viktor Yanukovich has announced his decision to fight for the future of his country "against those who use fear and terror to get power".
"No one has deposed me, I was forced to leave Ukraine because of threats to my life and my relatives," the fugitive president said at a press conference in Rostov-on-Don, South Russia.
It was his first public appearance since fleeing Kiev a week ago.
"The power in Ukraine was seized by nationalists, pro-fascists, youths mobs who represents a minority of the Ukrainian population," he continued.
He blamed the West for its "irresponsible policy" towards the Ukrainian Maidan movement. He claimed he had "trusted in decency of Western mediators" when he signed the EU-brokered peace deal.
Yanukovich demanded early elections in December "to unblock and clear the streets all around Ukraine".
He said: "Lawlessness, terror, anarchy and chaos [followed the deal]" and added that Ukraine's parliament was "illegitimate" and had been voted in under pressure from Maidan militants.
Meanwhile, Swiss police raided his offices in Geneva as part of investigations into claims that millions of dollars of Ukrainian public money was embezzled and was being laundered.
Authorities froze the assets of 20 Ukrainians, including Yanukovich and his son.
Austria and Leichtenstein followed suit.
The Austrian foreign minister said: "Austria has decided to freeze possible bank accounts and assets of 18 Ukrainian citizens in Austria. This has been done on the basis of an official request by the Ukrainian foreign ministry."