Authorities in Iraq are reportedly holding around 1,400 foreign wives and children of suspected Isis fighters at an Iraqi camp south of Mosul. The city was declared liberated of Isis rule in early July.
Most of the detained women are from Turkey while others hail from Tajikistan, Azerbaijan, Russia, Asian countries and from France and Germany, security and aid officials in the country told Reuters.
"We are holding the Daesh families under tight security measures and waiting for government orders on how to deal with them," Army Colonel Ahmed al-Taie from Mosul's Nineveh operation command reportedly said, using the Arabic acronym for the militant group. He added that the women and children were being treated well.
"They are families of tough criminals who killed innocents in cold blood, but when we interrogated them we discovered that almost all of them were mislead by a vicious Daesh propaganda," he added. The women were reportedly brought to Iraq after their husbands joined the militant group.
An aid official working in the liberated areas in Iraq told the news agency that this was the largest group of foreigners linked to Isis that was being held by Iraqi authorities. The Isis wives and children are believed to have arrived in the city since 30 August after the Iraqi army took complete control of Mosul — the former Isis stronghold in Iraq.
After Isis militants were driven out of Mosul, many were reported to have fled with their families to Tal Afar, which was recently retaken by the Iraqi army. Prime Minister Hayder al-Abadi declared Tal Afar and the entire Nineveh province liberated on 31 August.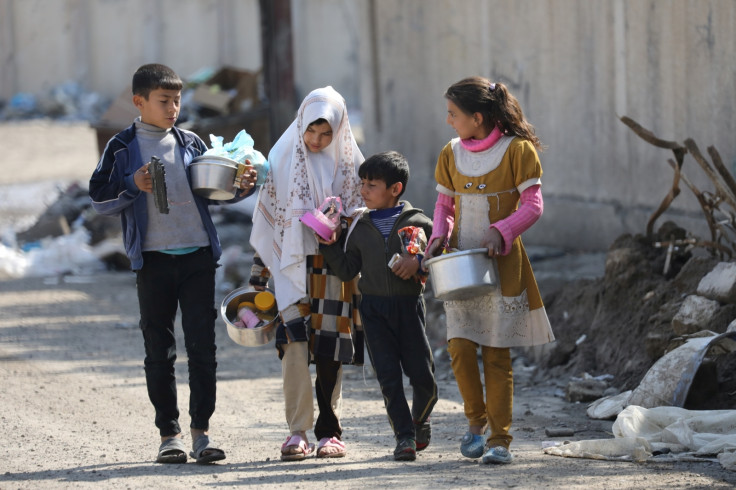 A security officer reportedly said that many Isis fighters and their families had surrendered to the Kurdish peshmerga forces in Tal Afar. The Kurdish militia was fighting Isis in the country. After the surrender, they handed the woman and children to Iraqi forces, but kept the men in their custody, the officer added.
Meanwhile, the women and children were reportedly seen living in deplorable conditions at the Mosul camp as authorities continue to verify their nationalities.
Army Lieutenant Colonel Salah Kareem reportedly said that their officials have so far counted 13 different nationalities of the women.
An official from the Iraqi interior ministry said they wanted to negotiate with embassies the return of the women and children. "We can't keep this number in our custody for a long time," he reportedly said.