The Kurdish-led Syrian Democratic Forces (SDF) said on Monday (16 January) that they have so far liberated more than 200 villages from Islamic State (Isis) rule and killed over 600 militants under their Euphrates Wrath Operation to isolate Raqqa – an IS (Daesh) stronghold in Syria.
The SDF forces launched the initial anti-Isis offensive to free Raqqa in November 2016 and almost a month later, they launched the second phase of the operation on 10 December, 2016.
"During the second phase, our SDF forces were able to liberate 2480 square kilometre, clearing 196 villages and dozens of farms and strategic hills, besides expelling Isis from the historic Jaabar Citadel," the SDF leadership reportedly said during a press conference. They added that in the past two months, they have liberated a total of 3200sqkm, including 236 villages.
The Kurdish-led force, which recently liberated Manbij, said that they also seized a large amount of ammunition and weapons from Isis, including number of Isis vehicles. "Over 40 car bombs were destroyed before reaching their targets," the SDF said.
Giving an account of their own casualties, the force said that they have so far lost 42 soldiers in the operation, but more than 2500 new fighters have joined them after being "trained and equipped by the SDF in cooperation with the US-led coalition". The SDF leadership also said that 28 Arab tribal leaders in the region "will declare their support" for them in the coming days.
"We have lost 42 of our fighters in this fight so far, three of them were Western fighters [an American, a Canadian and a British] who had volunteered in the SDF ranks. Also, three fighters from the Syriac Military Council lost their lives, beside other Arab and Kurdish fighters within the Euphrates Warth Operation," the SDF leaders were quoted by ARA News as saying at the conference.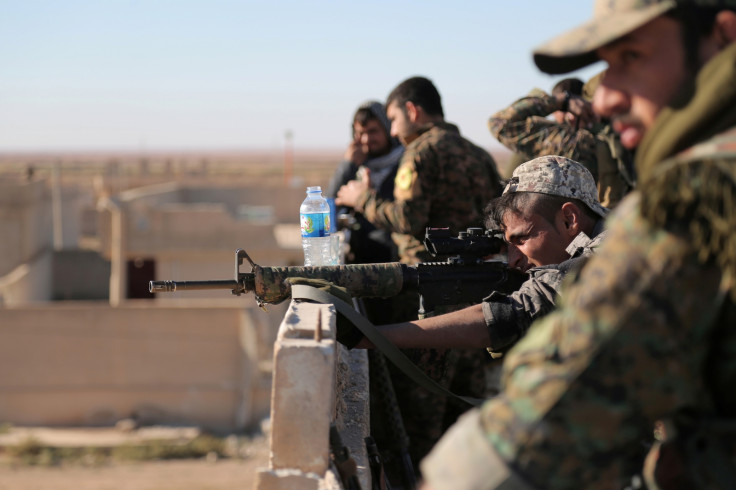 SDF, which is facing threats from the Turkey-backed rebel groups in the fight for Raqqa, called on the people of the Isis stronghold to "join the SDF ranks in order to liberate the entire Raqqa province from Isis terrorists".
Turkey recently threatened to attack SDF personnel stationed in Manbij, which could serve as a strategic position to attack Isis in Raqqa. However, the US-led coalition has clarified that it will target only areas occupied by Isis and not the ones liberated from their rule.