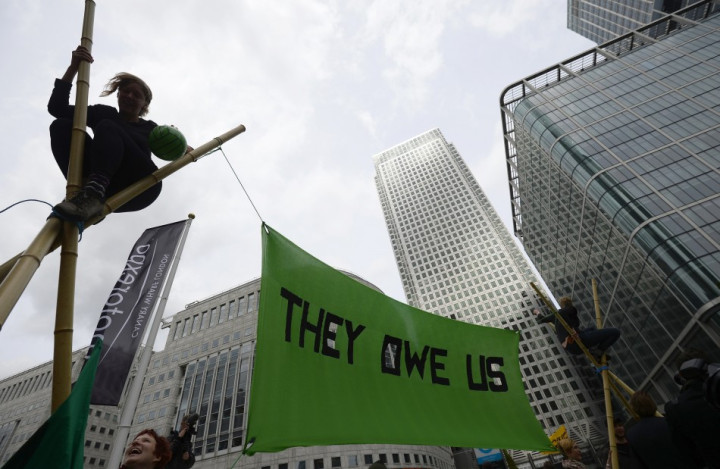 Anti-capitalist protesters descended on Canary Wharf, the corporate heart of the UK's financial sector, as G8 leaders prepared to meet in Northern Ireland for a summit chaired by Britain.
Under the "They Owe Us" campaign banner, 200 activists representing a number of groups - such as UK Uncut, Occupy London, and Disabled People Against the Cuts - came together under the gaze of Canary Wharf's glistening towers to rail against capitalism, government austerity, and environmental damage.
A number of speeches was interspersed with music from a brass ensemble in front of the tube station while besuited office workers ate lunch and looked on. A large police presence looked on but there was no trouble.
"We are here to talk about alternatives. Share ideas. We've got people here who want to talk about the fact that we've been told a lie that we are all in debt and so we need to tighten our belts," Anna Walker of UK Uncut told IBTimes UK.
"One alternative is to make the banks pay, another is to cancel those debts like Iceland did. We're here to discuss some of the alternatives to capitalism.
"It's not about one protest, it's about a series of protests. It's about building a movement of people who want to see change, who want to talk about alternatives, who want to demand change - and make change happen for themselves."
David Cameron has said he would use the UK's G8 presidency to improve trade and discuss how to clamp down on tax evasion and aggressive avoidance, as the leaders meet in Enniskillen, Co Fermanagh.
Closing tax loopholes
Cameron said he wanted agreement on country-by-country reporting of the tax paid in company financial accounts. He would also push for transparency of company ownership.
The effort to close tax loopholes has particular political potency because of the furore over the tax affairs of multinational giants such as Google, which have been criticised for handing over too little in tax to the Treasury despite notching up billions of pounds in revenues generated in the UK.
MPs on the Public Affairs Committee called on HMRC to investigate Google's tax arrangements.
"I am here because I wanted to support a protest against capitalism, particularly at the time of the G8 meeting where the richest countries in the world make all sorts of promises and noises about the system without actually doing anything practical," said Gwyn, a retiree from east London who was handing out leaflets at the Canary Wharf demonstration.
"We've simply got to get together. We've got to end our system and we've got to make something better and more equal."
For others at the event, amid the seasoned activists, it was their first protest.
"I've been becoming increasingly alienated I suppose by looking at what's going on through the news," said Steve, a banker-turned-youth worker who had travelled to Canary Wharf from Littlehampton, West Sussex.
"I've been doing some research on the internet and on YouTube. I've been getting more interested in groups like Anonymous, UK Uncut and Shift the Debt. So I decided for the first time in my 42 years that I would come and stand and show my face and be counted."
Related articles:
Tax Haven Crackdown 'Could End World Hunger by 2025' [VIDEO]

ActionAid Calls for Tax Haven Crackdown at G8 [VIDEO]
UK Wages Slashed by £52bn since Financial Crisis
Vodafone Paid No UK Corporation Tax in 2013 Despite £294m Profit