Owen Smith apologises to Jeremy Corbyn over 'lunatic' comment 'if he was offended'
Labour leadership challenger says comments made at rally were aimed at himself rather than Corbyn.
Owen Smith has apologised to "anyone who was offended" by his use of the word 'lunatic' at a campaign rally, insisting he was using it to describe himself rather than Jeremy Corbyn. Smith was urged to apologise for remarks made during his Labour leadership campaign in Hammersmith on Tuesday (23 August 2016) and accused of injecting an "ugly tone" into the contest.
Smith told supporters: "What you won't get from me is some, you know, lunatic at the top of the Labour Party, you'll have someone who tries to form a coherent narrative about what's wrong with Britain."
Speaking to BBC Radio 4's Today Programme on Wednesday morning, Smith said he was referring to himself as a lunatic rather than Corbyn and said it was another example of him using "colourful" language.
He said: "Having been accused earlier of running around like a lunatic, I was saying I wasn't a lunatic. But if anyone is offended by the use of that word then I do apologise. But I wasn't talking about Jeremy, I was talking about me."
Asked whether that was an "unreserved apology" to the leader of the Labour party, Smith responded it was an "unreserved apology to anyone who was offended by the use of the word 'lunatic'. As I said it was a reference to me...If he's [Corbyn] been offended by it, yes absolutely."
Smith said the incident is proof that he needs to "weigh every word carefully" if he wants to be leader of the opposition, and that he has not done that thoroughly enough in this case. When asked by Today presenter John Humphrys whether this suggest he is not ready to be leader, Smith denied this, saying it merely shows he is "occasionally a bit colourful with my language, and I need to be slightly less colourful in the future."
In the past, Smith has been criticised for saying he wants to "smash" Prime Minister Theresa May "back on her heels" and suggested he would be up for having Islamic State (Isis) "around the table" for peace talks over Syria.
Elsewhere, Smith was also attacked for suggesting he will try and stop May from implementing Article 50 and triggering Brexit following June's historic referendum unless she promises a second referendum on the final deal.
Smith said: "The British people were lied to by the Leave campaign – they deserve to have a say on whatever exit deal the Tories strike with the EU.
"Theresa May says that 'Brexit means Brexit' – but nobody knows what Brexit looks like. It could involve trashing workers' rights and environmental protections, opening our NHS up to foreign competition, making it harder for us to trade with our neighbours and damaging our economy."
Humphry's told Smith: "So what you're saying to 17 million people – 17,410,742 – what you're saying to them is 'Sorry, we didn't like the way you voted last time, we'll have another referendum.'"
He added: "People were offered a choice. There may well have been fibs, as you say, by both sides and so on [but] people aren't stupid, they made a decision. You're now saying to them, I repeat, 'we didn't like your decision'. You're denying them their right."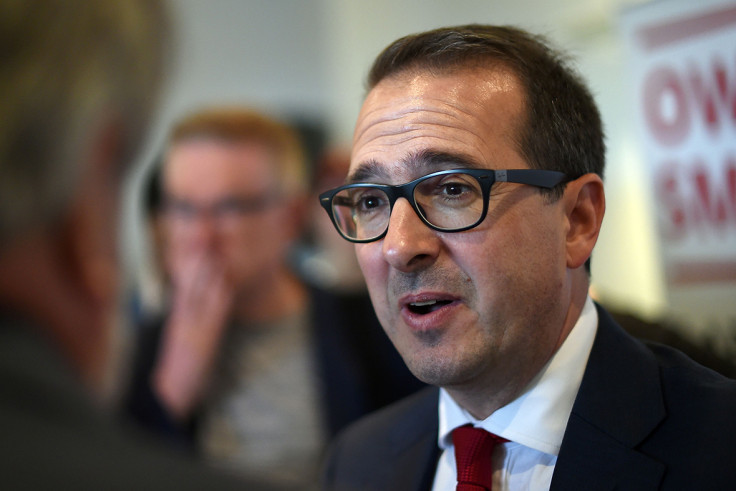 © Copyright IBTimes 2023. All rights reserved.